BUILDING OF THE WEEK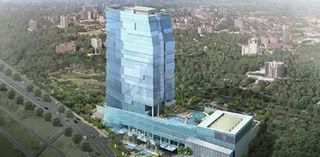 Artist's impression of the Intercontinental Hotel & Casino, currently under construction in Angola's capital Luanda (Skyscrapercity).
DIAMONDS
South Africa's Trans Hex Group has partnered with Angolan state-owned diamond company Endiama and three other local companies to explore for diamonds at a new mine in Angola, Endiama said (BusinessDay).
ECONOMY
The International Monetary Fund approved its first performance review of Angola's 27-month IMF economic program and agreed to disburse a $171.1 million loan tranche (Reuters).
OIL
The first stage of the Lobito oil refinery will start operating in 2014 with a capacity to refine 115,000 barrels/day and offering 1,000 direct jobs, Angolan oil minister Jose Botelho de Vasconcelos revealed (Angop).
BANKING
The northern Malange Province counts as from last Thursday on the first branch of Millennium Bank in the region (Angop).
TELECOMS
A study of the Angolan telecommunication sector, carried out from 2007 to 2008, recommends mobile network operators to make an annual investment  average of USD 750 million in order to improve the services provided to consumers (Angop).