ELECTIONS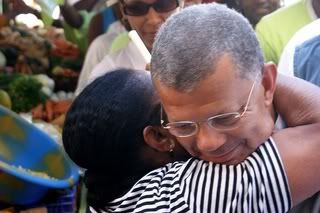 MpD leader Carlos Veiga has promised to double the number of tourists coming to Cape Verde before the end of 2011 if he is elected prime minister on February 6. He made the announcement during an MpD rally that drew thousands of people to Liberdade Square in Espargos, on the island of Sal (A Semana).
The head of the list of the candidacy of PAICV for the constituency of Sal, Basílio Ramos, promised that Palmeira must be a port and tourism centre on the East coast of the island (AW).
The ruling PAICV is leading in Atlantico Weekly's election poll, two weeks ahead of the real thing.
BOA VISTA
The rupture of a mid-tension cable left the island of Boa Vista in the dark beginning at 8:30 pm Tuesday, January 25, according to water and electricity utility Electra's director of production for northern Cape Verde, Hipólito Gomes (A Semana).
SAL
Installation work of the new diesel power station in Palmeira, on the island of Sal, has been concluded. The new infrastructure will work as a reserve for the new photovoltaic plant located in the same village (A Semana).
SAO VICENTE
São Vicente municipal councilman Benvindo Cruz was officially named as a suspect by the Public Ministry this week in the case of the alleged illegal sale of lands from inside the São Vicente municipal chamber, according to various A Semana sources.