POLITICS
Aristides Lima suspended his seat in the National Assembly at the beginning of this week to dedicate himself fully to his presidential campaign. Lima has been substituted by Walter Évora, who holds a degree in political science and is the local leader of the PAICV on the island of Boa Vista (A Semana).
TWITTER & LINKEDIN
You can now follow Atlantico Weekly on Twitter at atlanticoweekly.
Also be welcome to join our Atlantico Weekly networking and discussion group on Linkedin.
INTERNATIONAL
Cape Verde was the main highlight in the first edition of Africa Week in Belo Horizonte, Brazil. After the screening of the documentary Viagem às Ilhas de Cabo Verde, Fidel Duarte, the son of freedom fighter and Cape Verde's first minister of foreign affairs Abílio Duarte, led a conversation with the audience about everyday life in Cape Verde (A Semana).
The Hello Cabo Verde Expo 2011 is coming to New Bedford for an extravagant three-day celebration of island life. Organizers promise a full calendar of colorful events with food, music, dancers and artists showcasing the rich cultural traditions that lend this distant archipelago its unique flavor (South Coast Today).
DEFENSE & SECURITY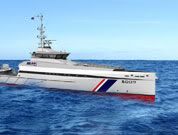 The scheduled arrival of the patrol ship Guardião, which is currently being built in the Damen BV shipyards in the Netherlands, has been moved forward to the second half of December, one month before the deadline indicated in the contract. The vessel is being anxiously awaited, as it will reinforce Cape Verde's surveillance capacity in its Exclusive Economic Zone, which is 180 times larger than the country's actual land territory (A Semana).
The Royal Navy's HMS Edinburgh has set sail on a seven month patrol to the British South Atlantic Islands, including the Falklands and South Georgia. The Type-42 destroyer left Portsmouth this morning. During her journey south she will call at the Cape Verde Islands and a variety of countries off the west coast of Africa before arriving in the Falklands later this summer (British Forces News).
A U.S. Coast Guard cutter departed also to conduct maritime safety and security exchanges with countries along the west coast of Africa. During the three-month mission, the 270-foot medium endurance cutter Forward and its crew will visit and work with countries such as Liberia, Senegal, Sierra Leone, and Cape Verde, a news release from the U.S. Coast Guard said.
SAO VICENTE
Isaura Gomes has resigned as mayor of São Vicente. Her letter of resignation was submitted to the São Vicente municipal assembly this morning, A Semana Online has learned.