ELECTIONS
The four candidates running in the August 7 presidential elections participated in their second debate beginning onJuly 27, broadcast live on Cape Verdean National Radio (RCV) and Cape Verdean National Television (TCV). Aristides Lima, Joaquim Monteiro, Jorge Carlos Fonseca and Manuel Inocêncio Sousa presented their arguments in an attempt to convince voters, particularly undecided ones, of the consistency of their respective proposals (Picture A Semana).
Over the last few days, as the battle raged, on Aristides Lima called on supporters and adversaries to exercise verbal restraint, while Sousa promised a "cultural presidency" and Fonseca says he will be a "clean president with a sound body".
SPLIT SECOND POLL
TWITTER & LINKEDIN
Atlantico Weekly is now on Facebook. Be welcome to join our group!
You can now follow Atlantico Weekly on Twitter at atlanticoweekly.
Also be welcome to join our Atlantico Weekly networking and discussion group on Linkedin.
POLITICS
In reaction to Prime Minister and PAICV leader José Maria Neves' recent declarations regarding Amílcar Cabral, political party UCID has exhorted the party and its chairman to clarify who they believe to be responsible for the death of the leader of the struggle for the independence of Cape Verde and Guinea Bissau (A Semana).
Earlier, the leader of opposition party MpD demanded that José Maria Neves "explain, prior to the presidential elections, the declarations he proffered about the death of Amílcar Cabral, so that the people may vote in good conscience." Carlos Veiga also expressed "great surprise" with the "very serious" affirmations made by Prime Minister and PAICV leader Neves (A Semana.
INTERNATIONAL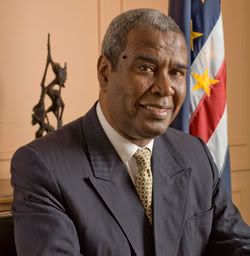 António Monteiro, who ruled the archipelago off the West African coast between 1991 and 2001, was unveiled as a nutrition advocate by the Nutrition Working Group for West Africa, an organisation of U.N. agencies and non-governmental organisations that will support Monteiro during his two-year post (AlertNet).
DEFENSE & SECURITY
Twenty-nine National Police officers from all of the squadrons in the country are taking a month-long course in the area of criminal investigation. The course is in its second week at the National Training Center in Praia and encompasses the modules "Inquiry" and "material and personal evidence-gathering" (A Semana).
The Chief of Staff of the Angolan Armed Forces, Sachipengo Geraldo Nunda, started a visit to Cape Verde, among other things discussing with his Cape Verdean counterpart, Fernando Pereira, the state of military-technical cooperation between the two institutions (Inforpress).
President Pedro Pires of the Republic considered the attack on Thursday July 21st in Praia against Praia District Judge Faustino Varela Monteiro, as "serious" (Inforpress).
SAL
A little bit of controversy has been created with an article in A Semana which states that turtles could disappear from Sal in five years time. There are a number of inaccuracies in the article, such as the fact that hunting has increased and that there have already been turtles killed this summer – neither of these comments are true.  In addition, the figures quoted at the end reflect what is probably a natural fluctuation in nesting on Sal (SOS Tartarugas).
SAO VICENTE
The vehicle owned by former São Vicente mayor Onésimo Silveira was completely destroyed by a fire in the early morning hours of Tuesday, July 26, in front of his home in the Selada de Baleia district of the island. Silveira told A Semana Online that he has no doubt the fire was an act of arson.
DIASPORA
The cycle of debates known as the Tertúlia Crioula, which takes place every month in Portuguese capital Lisbon, will promote a debate this Saturday, July 30, featuring the youth campaign directors in Portugal of three of the candidates in Cape Verde's August 7 presidential elections (A Semana).
The number of foreigners living in Portugal dropped nearly two percent in 2010, with the number of Cape Verdean immigrants living in the Western European country down 9.96% since last year. Even so, the Brazilian and Cape Verdean communities in Portugal continue to be the most numerous, while Romanian immigrants form the largest community of immigrants hailing from a fellow European Union country (A Semana).