ELECTIONS
Opposition candidate Jorge Carlos Fonseca has won Cape Verde's presidential elections, beating his ruling party rival, Manuel Inocencio Sousa. Mr Fonseca secured nearly 55% of the vote in run-off elections on Sunday, compared with Mr Sousa's 45% (BBC).
United Nations Secretary-General Ban Ki-moon has welcomed the peaceful staging of presidential elections in Cape Verde, saying they illustrate the West African country's continued adherence to democracy and good governance (
UN
).
In his first words as Cape Verde's president-elect, Jorge Carlos Fonseca promised to abide by his electoral platform, speaking of cooperation with the various different organs of sovereignty, including the executive, but stressed that he would be an "active magistrate," making use of all of the powers the Constitution reserves for the office of the President of the Republic (A Semana).
The 75 Economic Community of West African States (ECOWAS) observers in Cape Verde for the second round of voting in the country's presidential elections classified the electoral act as "transparent and free." On Monday, August 22, the observers saluted all of the participants for the orderly manner in which the entire process unfolded and for what they consider "Cape Verde's political maturity" (A Semana).
POLITICS
Prime Minister José Maria Neves presented a proposal for the exoneration of Minister of Social Development and Family, Felisberto Vieira, to President Pedro Pires in response to Vieira's letter of resignation on August 8. The proposal was accepted by the President (A Semana).
TWITTER, FACEBOOK & LINKEDIN
Atlantico Weekly is now on Facebook. Be welcome to join our group!
You can now follow Atlantico Weekly on Twitter at atlanticoweekly.
Also be welcome to join our Atlantico Weekly networking and discussion group on Linkedin.
DEFENSE & SECURITY
The United States African Command (AFRICOM) and the Cape Verdean Armed Forces signed a cooperation protocol in Praia worth US$200,000, for the acquisition of equipment for Cape Verde Coastguard patrol ships (Macauhub).
DIASPORA
It is well documented that winning the lottery can cause people to behave strangely. Even by those standards, Candido Oliveira, a 47-year-old unemployed Dorchester man who showed up at Massachusetts State Lottery headquarters yesterday to claim his $32 million MegaMillions jackpot, stands out for what he did not do (Boston Globe).
Leila Lopes, born in Benguela, Angola to Cape Verdean parents, will represent Angola at the Miss Universe pageant in São Paulo, Brazil on September 12 (A Semana).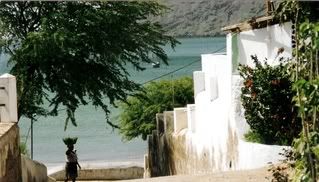 SANTIAGO
A technical problem in one of the pumps used to supply the larger of the two desalinization units in Praia, which produces 5,000 cubic meters of desalinated water per day, has left the capital city waterless for the second time so far this year. The situation is being aggravated by the fact that the other desalinization unit, which has a 1,200-cubic-meter daily capacity, has not been functioning for several months (A Semana).