POLITICS
The EU has granted "GSP+" status to Cape Verde, the first African nation to sign up to GSP+. Under this trade scheme, which grants preferential access to the EU market when certain conditions of good governance are fulfilled. Cape Verde will continue to enjoy generous preferential access to the EU after its graduation from the "Everything But Arms" (EBA) initiative (EIN).
Former Cape Verde President Pedro Pires has urged Africa leaders to refrain from egoism and intolerance which "are among the main causes of insecurity on the continent". He urged African presidents in particular, to "contentiously reject the notion that those with dissention voices are enemies" (Africa Review).
Cape Verde could receive between 50 and 70 million US dollars as part of its second Millennium Challenge Corporation (MCC) compact, according to consulting company Center for Global Investment. The list of countries expected to benefit from a second financial compact with the US government corporation will be announced on December 15 (A Semana).
The Movement for Democracy (MpD) confirmed the names of Ulisses Correia e Silva (Praia), Augusto Neves (São Vincente) and Orlando Delgado (Ribeira Grande Santo Antão) as candidates for the party in the local elections of 2012 (Inforpress).
LAW ENFORCEMENT
The Inter-Governmental Action Group against Money Laundering in West Africa (GIABA) is organising a three day Regional Seminar on Criminal Asset Recovery from December 12 – 14 at the National Assembly in Praia, Cape Verde (AllAfrica).
SAL
"They say when god was happy with creation he dusted his hands and created Cape Verde. So I spent a week on the idyllic island of Sal to check out his handy work and I certainly wasn't disappointed…" Read the full report at Cambridgefirst.
SOS Tartarugas is looking for a shark specialist for a shark monitoring program (SOS Tartarugas).
A Chinese couple died at Sal Hospital in what is being treated as a case of suspected murder. The couple was rescued from a fire in their own apartment in the Chã de Matias district of Espargos, but both were found to have various stab wounds on their bodies (A Semana).
THE GRAND TOUR OF CAPE VERDE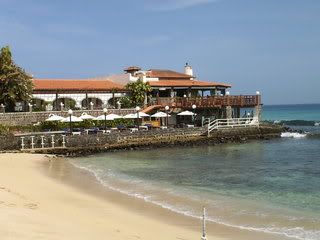 Read The Grand Tour of Cape Verde, Atlantico Weekly's travel guide to the country's main islands.