POLITICS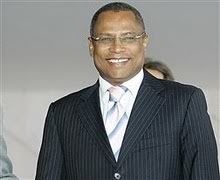 A movement has sprung up on Facebook in reaction to Prime Minister Jose Maria Neves's decision to rename Praia International Airport after the South African leader Nelson Mandela. The movement stresses not to hold anything against Mr Mandela, but hopes to convince the government that there are enough Cape Verdean personalities that could be similarly honoured. An Atlantico Weekly poll (still open, in Portuguese) puts those that want to keep the airport's present name at 47% and those in favor of honouring Mr Mandela at under 9%. Other names favoured are those of former president Pedro Pires and of the late composer Orlando Pantera.
INTERNATIONAL
The Summary for Policy Makers presents the main findings and policy options identified by the report on climate change vulnerabilities in in Cape Verde. The study, funded under the One UN Fund in Cape Verde, was led by the Government of Cape Verde, with support from the United Nations Country team, The United Nations Environment Programme (UNEP) and Enda Tiers Monde (AllAfrica).
SPLIT SECOND POLLS
SUBSCRIBE!
You can subscribe to Atlantico Weekly here. It's free!
Atlantico Weekly is now also on Facebook. Be welcome to join our group!
You can follow Atlantico Weekly on Twitter at atlanticoweekly.
Also be welcome to join our Atlantico Weekly networking and discussion group on Linkedin.
DEFENSE & SECURITY
Cape Verde plans to set up partnerships with countries such as Portugal and Brazil to acquire fixed wing aircraft to patrol and inspect Cape Verde's territorial waters, while negotiation with China for the acquisition of helicopters is at an advanced stage (Macauhub).
SANTIAGO
"Electra is an outlaw institution." This was Praia mayor Ulisses Correia e Silva's reaction after water and electricity utility Electra cut off the electrical supply to several of the Praia municipal chamber's installations, including city hall, for lack of payment of outstanding bills. Correia e Silva promises harsh measures on the part of the Praia municipal chamber (A Semana).
THE GRAND TOUR OF CAPE VERDE
Read The Grand Tour of Cape Verde, Atlantico Weekly's travel guide to the country's main islands, updated recently.
SANTO ANTAO
The township of Monte Trigo, in the south of Santo Antão island, now benefits from a new and renewable energy production and distribution system, that functions by means of photovoltaic panels (Atlantico Weekly).