ECONOMY
Inflation dropped by 0.5 % to 2,5 % for the month of February 2012. For the full report by INE including figures for the various islands check here (Pdf, in Portuguese).
Expansion and modernization of the Port of Praia is expected to be completed in May 2013 under a project funded by a 200 million-euro line of credit provided by Portugal. Portuguese construction consortium Somague/MSF/Etermar will carry out the second phase of work at a cost of 72 million euros (Dredging Today).
PROJECT OF THE WEEK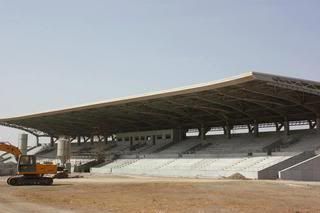 Construction of Cape Verde's National Stadium in Praia.
SUBSCRIBE!
You can subscribe to Atlantico Weekly here. It's free!
Atlantico Weekly is now also on Facebook. Be welcome to join our group!
You can follow Atlantico Weekly on Twitter at atlanticoweekly.
Also be welcome to join our Atlantico Weekly networking and discussion group on Linkedin.
AVIATION
One of TACV Cabo Verde Airlines' ATR aircrafts, which was carrying out a regularly scheduled flight between Praia and Sal, was forced to return to Praia International Airport because of a technical problem, according to information from the company's press office (A Semana).
THE GRAND TOUR OF CAPE VERDE
Read The Grand Tour of Cape Verde, Atlantico Weekly's travel guide to the country's main islands, updated recently.
SPLIT SECOND POLL
CAPE VERDE IN 2030
Atlantico Weekly is looking ahead!
Check out our Cape Verde in 2030 with a realistic glimpse of how Cape Verde will look like in the next decades …!
ENTREPRENEURS OF CAPE VERDE
Check out Atlantico Weekly's Entrepreneurs of Cape Verde, a series of short interviews with entrepreneurs in Cape Verde, both homegrown and foreign. For instance with Paulino Dias of PD Consult…
TELECOMS
Portugal Telecom and CV Telecom launched a service aimed at the Cape Verde diaspora in Portugal, estimated at around 87,000 people, called Da $aldo Internacional. The service enables any TMN client in Portugal to make top-ups to people in Cabo Verde who are customers of CVMovel. Top-ups sent from CVMovel to TMN customers in Portugal will also launch soon. The top-ups can be made at any ATM or PayShop (Telecom Paper).
TOURISM
Britons are the largest group among Cape Verde's tourists with 19%. Germans and Italians are in second and third place. For a full statistical report on Cape Verde's tourists in 2011 check the INE site (Pdf, in Portuguese).
SPLIT SECOND POLL