POLITICS
An Angolan human rights group said it is launching a campaign for the right to protest amid a state crackdown on demonstrations against long-ruling President Jose Eduardo dos Santos (News24).
INTERNATIONAL
The International Monetary Fund approved the release of a final loan disbursement to Angola under the country's $1.4 billion loan agreement made in 2009. The IMF said it would immediately disburse $132.9 million to Angolan authorities and waived performance targets linked to international reserves and central bank credit (Reuters).
The International Monetary Fund should withhold a final loan payment of $130 million to Angola because of a "discrepancy" in income from oil sales, Human Rights Watch said (Bloomberg).
Angola's $500m plan to build a bauxite mine and deepwater port in Guinea-Bissau has stalled, with almost no work done since the project was officially inaugurated in July last year. The project, first signalled by Angola in 2008 after it won rights to a mining concession in the southeastern Boe region, would be the single biggest foreign investment in Guinea-Bissau, an impoverished country plagued by turmoil since independence and whose main export is cashew nuts (BusinessDay).
SUBSCRIBE!
You can subscribe to Atlantico Weekly here. It's free!
Atlantico Weekly is now also on Facebook. Be welcome to join our group!
You can follow Atlantico Weekly on Twitter at atlanticoweekly.
Also be welcome to join our Atlantico Weekly networking and discussion group on Linkedin.
DEFENSE & SECURITY
Many white South Africans conscripted to fight for the apartheid military in Angola still struggle to swallow the bitter pill that their battle landed on the wrong side of history. Known here as the Border War, apartheid South Africa sent troops to support Angola's Unita rebels, backed by the US against the then-Marxist MPLA government and its Cuban allies (News24).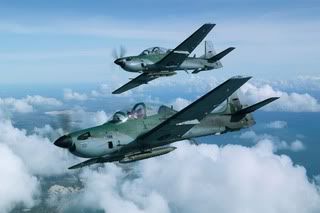 Brazilian aircraft maker Embraer said it booked $180 million in orders for its Super Tucano light attack fighters for border monitoring and counter-insurgency missions in Burkina Faso, Angola and Mauritania. The Angola Air Force has ordered six Super Tucanos, the first three of which will be delivered this year (Reuters).
ECONOMY
Angola's central bank has left its benchmark interest rate unchanged at 10.25 percent for the second straight month, the bank said after a meeting of its monetary policy committee (Reuters).
Next month Angola commemorates the 10th anniversary of the end of its three-decade civil war. The country has come a long way since 2002, when the death of rebel leader Jonas Savimbi finally silenced the guns that had pounded for so long in a conflict that began as a liberation struggle against the Portuguese and evolved into a proxy African cold war, involving both the ANC and the South African Defence Force. Thanks to oil, which accounts for about 90% of Angola's exports, the economy has grown at a stellar rate, at times outstripping China. This year its gross domestic product is forecast to swell by 12% (Mail & Guardian).
AVIATION
Four private airlines may soon start operating in Angola after completing the process to become an operator with the National Civil Aviation Institute (INAVIC), an official from the civil aviation regulator said. Air Two, Trans-World, Omni Aviation and SJL airlines are now waiting for conclusion of their application process in order to receive official certification (Macauhub).
The Dutch airline company KLM made the inaugural flight between the cities of Luanda and Amsterdam (Netherlands) with an Airbus 330-200, leaving the 4 de Fevereiro International Airport early in the evening (AllAfrica).
BANKING
The Portuguese unit of Angola's Banco BIC will buy nationalised lender Banco Portugues de Negocios (BPN) after the European Union approved the Portuguese bank's restructuring, opening the way for completion of the agreed deal (Reuters).
An investment bank owned by Portuguese state banking group Caixa Geral de Depósitos (CGD) and Angola's Sonangol is due to start operating in Angola the second half of this year, the Portuguese Finance Minister said in Luanda (Macauhub).
OIL & GAS
Angola plans to cut daily crude exports by 5 percent in May from next month, according to a final loading program obtained by Bloomberg News. The west African nation would export 55 cargoes amounting to 1.7 million barrels a day, compared with 56 cargoes totaling 1.79 million in April, the final schedules showed.
PORTS & LOGISTICS
The modernisation and enlargement of Lobito Port will be worth 1.2 billion dollars acoording to the port's CEO, Anapaz de Jesus Neto. The money will be used for the construction of a terminal for unloading minerals cargo. The enlargement of the quay that will enable to receive 12 ships is also part of the work. Currently, Lobito Port receives only eight ships. The investment also comprises the construction of a dry port and other port related services. With this investment it will be possible to handle 11 million tonnes of cargo per year (ABN/Angop).
TELECOMS
Brazilian company Telebras and Angola Cables signed an agreement to lay an undersea cable between the Brazilian city of Fortaleza and the Angolan capital, Luanda, which may start operating in the first half of 2014 (Macauhub).