PROJECT OF THE WEEK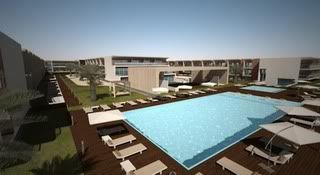 Render of the five star Oasis Atlantico Salinas Sea hotel, currently under construction in Santa Maria, on Sal Island.
ECONOMY
Creating the first American school in Cape Verde is among the proposals being brought by a group of US entrepreneurs. The businesspeople also intend to invest in the finance and construction sectors (A Semana).
Almost all of the U.S. development money spent by Cape Verde has gone to contracts with European companies, not American ones. The Metro South Chamber of Commerce, at the prompting of the Cape Verdean consulate in Boston, wants to change that. The delegation includes James Blake, president of Harbor One Credit Union; Brockton Councilor-at-Large Jass Stewart; Sheila Sullivan-Jardim, executive director of the Brockton Area Workforce Investment Board; and Peter Vlaco of Brophy & Phillips, and Ken DeDominici of Churchill Linens (Entreprise News).
The price of electricity supplied by water and electricity utility Electra and by Águas e Energia de Boa Vista will go up. The new prices, which are an average of 1.5 escudos higher per KWh, have been set by the Economic Regulation Agency (ARE) (A Semana).
ENTREPRENEURS OF CAPE VERDE
Check out Atlantico Weekly's Entrepreneurs of Cape Verde, a series of short interviews with entrepreneurs in Cape Verde, both homegrown and foreign.
This week with a strong believer in Cape Verde's tourism sector: Alexandre Abade of Oasis Atlantico Hotels.
SPLIT SECOND POLLS
SUBSCRIBE!
You can subscribe to Atlantico Weekly here. It's free!
Atlantico Weekly is now also on Facebook. Be welcome to join our group!
You can follow Atlantico Weekly on Twitter at atlanticoweekly.
Also be welcome to join our Atlantico Weekly networking and discussion group on Linkedin.
AGRI ETC.
More than 40% of work on the Faveta dam on Santiago Island has been concluded. The Faveta dam will have a total storage capacity of 670,000 cubic meters of water. The underground water it will help accumulate, however, will total some 1,200,000 cubic meters, and will be used to irrigate more than 908 hectares of farmland (A Semana).
The government is investing 75,716,569 escudos to dig 12 wells for the extraction of underground water on the island of Brava. The ultimate objective is to mobilize more water to modernize and expand agriculture on Cape Verde's smallest inhabited island (A Semana).
CAPE VERDE IN 2030
Atlantico Weekly is looking ahead!
Check out our Cape Verde in 2030 with a realistic glimpse of where and how Cape Verde will look like in the next decades …!
TOURISM
Hiacemar is the latest sea-going vessel intended to transport tourists between the islands of São Vicente, Santo Antão and São Nicolau. The vessel was blessed by Mindelo Bishop Ildo Fortes in Mindelo sea port in a ceremony attended by Minister of Tourism, Industry and Energy Humberto Brito (A Semana).