PROJECT OF THE WEEK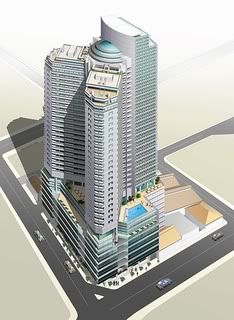 Render of the triple tower Yesus complex for Luanda (Source).
POLITICS
After being a U.S.-backed rebellion for decades in Angola, the National Union for the Total Independence of Angola, or UNITA, is now struggling as a political entity.  Its leader, Isaias Samakuva, is threatening massive street protests if there are no guarantees for free and fair elections expected later this year (VOA).
SUBSCRIBE!
You can subscribe to Atlantico Weekly here. It's free!
Atlantico Weekly is now also on Facebook. Be welcome to join our group!
You can follow Atlantico Weekly on Twitter at atlanticoweekly.
Also be welcome to join our Atlantico Weekly networking and discussion group on Linkedin.
INTERNATIONAL
The European Union and Angola are due to sign, in Brussels, a new agreement called the EU-Angola Joint Way Forward which is intended to, "launch a permanent process of dialogue and cooperation between the two regions," the President of the European Commission said (Macauhub).
Chinese State Councilor Meng Jianzhu has urged the Angolan Interior Department to protect the safety and lawful rights of China's citizens in Angola, as crimes by armed gangs against Chinese working in the African country have been on the rise (Capital News).
ECONOMY
Angola's rapid rebuilding after a devastating civil war will attract foreign companies to invest in its ample natural resources and help diversify the economy away from oil, the new head of the country's investment agency said. Maria de Luisa Abrantes, President of the Angolan Agency for Private Investment (ANIP), also told Reuters that a new investment law passed in 2011 is helping the government approve foreign investment projects more rapidly and monitor their effectiveness more closely.
BANKING & FINANCE
Angolan bank Banco Angolano de Investimentos (BAI) now owns 72 percent of insurance company Nossa, Nova Sociedade de Seguros de Angola, after making a deal with Portuguese insurance company Real Seguros, which owned a 55.33 percent stake in Nossa, BAI said (Macauhub).
MINING
The Angolan mining sector grew 11.8 per cent from 2008 to 2011 (Angop).
OIL & GAS
Angola LNG is to start regular exports of liquefied natural gas in late June after shipping tests next month and will target non-U.S. buyers in Europe and Asia where prices are higher, oil minister Jose Botelho de Vasconcelos said (Reuters).
Angola will reduce daily crude exports for June to a 10-month low, according to a final loading program obtained by Bloomberg.