PROJECT OF THE WEEK
Render of a multi-use building planned for Lobito (Skyscrapercity).
POLITICS
Angola named a new National Electoral Commission (CNE) president as opposition parties protested that too little time and few funds were allocated for campaigning before August polls. The oil-rich country's judicial commission, the Superior Judicial Council, unanimously chose Andre da Silva Neto, a 64-year-old Supreme Court judge, to head the CNE, it said in a resolution (Independent).
The holding of the third election in Angola is an evidence of the political maturity reached by the people, following long years of war and large experience in political stabilisation and consolidation of democracy. This was said by the ex-chairman of the Mozambican National Electoral Commission (CNE), Brazão Mazula (Allafrica).
A group of former presidential guards had planned to march towards the presidential palace, on May 27, in protest against the social and economic conditions in which they were living. The date is filled with symbolism. In 1977, a march towards the presidential palace was used to justify the massacre of tens of thousands of people by the late president Agostinho Neto and his supporters, as a purported measure against a coup attempt. The tragedy of May 27 is still an open wound in Angolan society and a traumatizing event for many families who never recovered the bodies of their loved ones or knew what happen to them (AllAfrica).
INTERNATIONAL
Angola began withdrawing its troops and military equipment from Guinea-Bissau, ending a year-long mission in the West African country aimed at reforming the army but which instead helped trigger a coup. An Angolan ship, the Rio Mbridge, began loading up men and equipment at the port of Bissau, and airplanes were deployed to pick up remaining troops who had been headquartered in a hotel in the seaside capital (Reuters).
SUBSCRIBE!
You can subscribe to Atlantico Weekly here. It's free!
Atlantico Weekly is now also on Facebook. Be welcome to join our group!
You can follow Atlantico Weekly on Twitter at atlanticoweekly.
Also be welcome to join our Atlantico Weekly networking and discussion group on Linkedin.
ECONOMY
The Angolan state plans to subsidise the interest rate on loans to a total of US$155 million provided by the 19 retail banks that are taking art in the !Angola Investe" programme to support micro. Small and medium-sized companies (Macauhub).
BUSINESS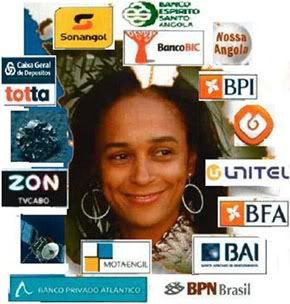 Isabel dos Santos has again increased he stake in Portuguese media company Zon Multimédia by acquiring the 2.82 percent of the company owned by Portuguese group Cinveste. With this latest acquisition dos Santos, the daughter of Angolan President José Eduardo dos Santos, has increased her stake in Zon to 17.84 percent (Macauhub).
South African food and clothing retailer Woolworths Holdings Ltd. is exploring expansion into Angola (Bloomberg).
MINING
The re-launch of iron ore mining in the Jamba municipal area of Angola's Huíla province, expected in 2013, will create over 6000 direct jobs, according to a report from Angolan mining company Sociedade Angolana de Exploração de Recursos Minerais (AEMR) (Macauhub).
OIL & GAS
Angola LNG, operator of one of the world's most modern LNG and processing facilities in Soyo, Zaire Province in Angola, and GE Oil & Gas have signed a long-term contractual service agreement (CSA) designed to increase overall plant efficiency and provide maximum availability for the key gas compression equipment (Marketwatch).