POLITICS
President of the Republic Jorge Carlos Fonseca visited the United States, where he met with the Capeverdean community and participated for the first time as head of state in the 67th session of the United Nations (AW).
ADVERTISEMENT SECTION
BEST CAPE VERDE MUSIC & BOOKS
Be welcome to check out Atlantico Weekly's music cd and book store in cooperation with Amazon.com! Browse the Atlantico Store for the latest and best Cape Verde and Angolan music, like Cesaria Evora, Tito Paris, Lura, Nancy Vieira, Mayra Andrade, Bonga and many others…! Also use the Atlantico Store to find relevant maps, books on politics, economics and history as well as travel or tourist guides about Cape Verde and Angola. You order straight with Amazon, one of the best online stores in the world. Enjoy!
INTERNATIONAL
The citizens of Singapore are exempt from paying for an entry visa into Cape Verde, under the terms of a deal signed in Singapore by the Prime Ministers of both countries. Explaining the decision, the Cape Verdean Prime Minister said that his country, "is waiting for investors and investments from Singapore, which is a benchmark due to its similarities with Cape Verde and its economic success", the Cape Verde press reports.
CAPE VERDE IN 2030
Atlantico Weekly is looking ahead!
Check out our Cape Verde in 2030 with a realistic glimpse of where and how Cape Verde will look like in the next decades …!
SOME MUSIC WHILE YOU READ?
SUBSCRIBE!
You can subscribe to Atlantico Weekly here. It's free!
Atlantico Weekly is now also on Facebook. Be welcome to join our group!
You can follow Atlantico Weekly on Twitter at atlanticoweekly.
Also be welcome to join our Atlantico Weekly networking and discussion group on Linkedin.
YOUR AD ON ATLANTICO WEEKLY
It is now possible to place your ads on Atlantico Weekly. Write us for the options.
BOA VISTA
The bridge over the Ribeira d'Água gully on the island of Boa Vista collapsed, A Semana reports, following the heavy rains that have been falling on the island, rains that were followed by flash flooding. With the road that crosses the bridge now cut off, travel between the city of Sal Rei and the Aristides International Airport, Rabil and Estância de Baixo is currently impossible.
BRAVA
The road linking the port town of Furna and the city of Nova Sintra, on the Island of Brava, will soon be asphalted, A Semana reports. The work, which is projected to cost a total of 750 million escudos , is being carried out by a consortium made up of construction companies Monte Adriano and Armando Cunha.
THE GRAND TOUR OF CAPE VERDE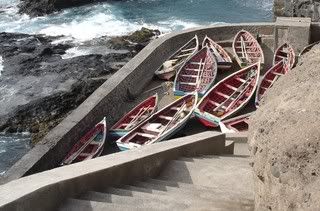 Check out The Grand Tour of Cape Verde, Atlantico Weekly's travel guide to the country's main islands!
SANTO ANTAO
A Semana reports that the Paul district court judge has released eight men accused of having perpetrated continuous sexual abuse against a 13-year-old girl, who became pregnant as a result of the abuse, pending trial. The suspects are forbidden from contacting the victim and will have to appear before local authorities once a week.
SAO VICENTE
An unidentified virus has been causing diarrhea, fever and respiratory problems on the Island of São Vicente, A Semana reports. The emergency room at Mindelo's Baptista de Sousa Hospital is currently attending to some 160 related cases per day.