ADVERTISEMENT


POLITICS
Prime Minister José Maria Neves affirmed that Cape Verde is working "very hard" to achieve by 2015 all of the Millennium Development Goals and to be a developed country by 2030.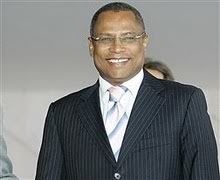 CAPE VERDE FLIGHT GUIDE WINTER 2012/2013
Welcome on Board! Check out Atlantico Weekly's latest feature, the Cape Verde Flight Guide, with TACV Cape Verde Airlines Winter 2012-13 timetable and an overview of all flights to and from Cape Verde!
BEST CAPE VERDE MUSIC & BOOKS
Be welcome to check out Atlantico Weekly's music cd and book store in cooperation with Amazon.com! Browse the Atlantico Store for the latest and best Cape Verde and Angolan music, like Cesaria Evora, Tito Paris, Lura, Nancy Vieira, Mayra Andrade, Bonga and many others…! Also use the Atlantico Store to find relevant maps, books on politics, economics and history as well as travel or tourist guides about Cape Verde and Angola. You order straight with Amazon, one of the best online stores in the world. Enjoy!
DEFENSE & SECURITY
The international press reported that China has made available 5 million USD for the acquisition of a second Cape Verde patrol vessel, to be built in China.
In a move designed to thwart the escalating piracy in the Gulf of Guinea, the Government of Cape Verde has granted a licence to Cape Verde Maritime Security Services (CVMSS) allowing the company exclusive rights to vet Private Maritime Security Companies (PMSCs) who want to use the island as a base for embarking and disembarking armed security teams. More here.
YOUR AD ON ATLANTICO WEEKLY
It is now possible to place your ads on Atlantico Weekly. Write us for the options.
SUBSCRIBE!
You can subscribe to Atlantico Weekly here. It's free!
Atlantico Weekly is now also on Facebook. Be welcome to join our group!
You can follow Atlantico Weekly on Twitter at atlanticoweekly.
Also be welcome to join our Atlantico Weekly networking and discussion group on Linkedin.
THE GRAND TOUR OF CAPE VERDE
Check out The Grand Tour of Cape Verde, Atlantico Weekly's travel guide to the country's main islands Santiago, Sal, Santo Antao, Boa Vista and Sao Vicente. Agora tambem em Portugues!
SAL
Tour operators in Sal say that hotels are experiencing the biggest number of guests ever, with reservations guaranteed for the entire festive season, extending until after April 2013.
SAO VICENTE
The cornerstone of the tourist and real-estate enterprise Baía de João d'Évora was in a ceremony attended by Minister of Industry, Tourism and Energy Humberto Brito and the president of Cabo Verde Investimentos, José Duarte. The Baía de João d'Évora enterprise will be developed on 8.43 hectares of land ceded by the government to Belgian business group Talboom for a 60-year period, extendable for an additional 30 years. A total of 400 guesthouses will be erected on the lands (A Semana).
This is a very positive development for Sao Vicente and proof that investments are still being made in Cape Verde's burgeoning and high potential tourism sector.
CAPE VERDE IN 2030
Atlantico Weekly is looking ahead!
Check out our Cape Verde in 2030 with a realistic glimpse of where and how Cape Verde will look like in the next decades …!