MEET OUR CONSULTANCY
Are you planning on doing business in Cape Verde? Get there with
Atlantico Business Development
business diplomacy
economic intelligence
political risk assessment
market scans
more here.
NEWS
The University of São Paulo, one of Brazil's most prestigious universities, had issued a communiqué affirming that it will investigate an alleged case of racism against Cape Verdean student Wadmir Abreu Alves Barros at one of the institution's sports facilities, A Semana reported.
The number of Chinese doctors to Cape Verde will increase in the next three years, Cape Verde's Health Minister Christina Fontes said. The minister was giving an assessment of the five-day visit to China where she participated in a Sino-African ministerial forum on health with a theme of "The Priorities for Sino-African Cooperation in the Health Sector in the New Era" (People Daily).
The state appeals court has ruled that a Cape Verdean immigrant who admitted to an assault charge in Brockton District Court will be allowed to change his plea in an attempt to return to the United States (Patriot Ledger).
INTERVIEW –
Atlantico Weekly recently spoke with Cape Verde's Prime Minister José Maria Neves about Cape Verde's business opportunities, development strategy, privatisations, new property tax law, international relations and much more in: Islands of Sun and Freedom in a Sea of Opportunities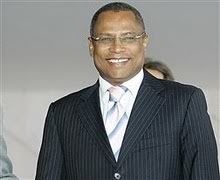 – ENTREVISTA –

Atlantico Weekly falou com o Primeiro-Ministro de Cabo Verde, Dr José Maria Neves, sobre as opportunidades de negócios em Cabo Verde, a stratégia de desenvolvimento, mudanças na tributação, as privatisações, as relações internacionais e muito mais em: Ilhas de Sol e Liberdade num Mar de Oportunidades

VOTE NOW
FOR
BEST RESTAURANT OF CAPE VERDE 2013!
Participate in this year's poll! Vote for your candidates for Best Restaurant of Cape Verde in 2013.
BEST CAPE VERDE MUSIC & BOOKS
Be welcome to check out Atlantico Weekly's music cd and book store in cooperation with Amazon.com! Browse the Atlantico Store for the latest and best Cape Verde and Angolan music, like Cesaria Evora, Tito Paris, Lura, Nancy Vieira, Mayra Andrade, Bonga and many others…! Also use the Atlantico Store to find relevant maps, books on politics, economics and history as well as travel or tourist guides about Cape Verde and Angola. You order straight with Amazon, one of the best online stores in the world. Enjoy!
ADVERTISE NOW ON ATLANTICO WEEKLY AND GET HUGE DISCOUNTS!
Atlantico Weekly now offers huge discounts to companies wishing to promote their business on our website.
Rates for ads with picture, link and a bit of text in one of the three columns on our front page now start at only 499 Euros for a 26 weekly edition period or only 999 Euros for a 52 weekly edition period (excluding taxes and money transfer costs).
Contact us for more info and our range of other advertising and promotion offers!
ECONOMY
All of Cape Verde's business and commercial establishments, registered and unregistered, have been called upon to provide updated data this September for the National Statistics Institute's fourth Business Census. Participation in the census is obligatory for all organizations and establishments carrying out economic activities in the country (A Semana).
Cape Verde will receive from the African Development Bank (ADB) a loan of 32 million euros (3.52 billion escudos) for the development of the Technological Center. The loan, granted under the project Framework for the Creation of a Technological Park (PT), includes the construction of a data center (whose works are in advanced stage), the construction of a business centre and common facilities, a hatchery and a centre for training and job qualification.
AVIATION
The Chief Executive Officer of Cape Verde's flagship airway, TACV Cabo Verde Airlines, this week decided to reprimand all of the company's officials who, contrary to the logic that should serve as the foundation for professional and responsible management, are currently on vacation, in the middle of TACV's busiest season. CEO João Pereira Silva reminded administration that August is "high season" and demands the massive presence of TACV's management in order to fulfill the contracts signed with tour operators and respond with what little means the company has to the huge demand from émigrés coming to spend vacation in their native land (A Semana).
THE GRAND TOUR OF CAPE VERDE
Check out The Grand Tour of Cape Verde, Atlantico Weekly's travel guide to the country's main islands Santiago, Sal, Santo Antao, Boa Vista and Sao Vicente. Agora tambem em Portugues!
FOGO
The first sparkling wine produced in Cape Verde, "Espumante de Fogo", is made from a muscatel grape variety from the Chã das Caldeiras wine region, local press reported. This new wine is a product of the Delgado-Egger-Fonseca company, owned by one Cape Verdean and two foreign investors. Production of the new sparkling wine will total just 400 0.75 litre bottles, so be quick!
ADVERTISEMENT
AGORA TAMBEM EM PORTUGUES!
O Grand Tour de Cabo Verde esta a ser traduzido em Portugues! Começamos na Ilha de Santiago e ja seguimos para a Ilha de Sao Vicente e a Ilha de Santo Antao…
SANTIAGO
The first building phase for the Central Market of Praia, to be located in the old Coco's stadium should be completed in the summer of next year. Initially, completion of the works was scheduled for August 2012, but due to delays in excavation works and lack of funding to retrieve the metallic structure of the customs caused some delay.
Judiciary Police are investigating a case of suspected fraud in the national lottery, known as Totoloto. Suspicions have focused on an employee of the lottery section of the Red Cross of Cape Verde and a lottery ticket sales spot in the city of Praia. Totoloto organizers ordered the prize money to the alleged winner withheld until Judiciary Police unravel the meanderings of the case (A Semana).
SAO VICENTE
São Vicente opened its doors to welcome the 3rd edition of Cape Verde Fashion Week. Fashion and photography set the tone for this event, which is intended to show Mindelo residents the new trends in the fashion world. Over the course of four days, organizers promise fashion shows exuding glamour to the sound of the live music of Boy Gê Mendes, among other local artists, A Semana reported.
The chairman of the PAICV's Regional Political Commission on the island of São Vicente, Alcides Graça, denounced the sale of a five thousand square foot plot of land in the Monte Sossego, Torrada district for the expansion of a private business project. Graça accused the local municipal government, led by the MpD, of mismanaging public property by granting land that had previously been set aside for the construction of Judiciary Police and National Police installations to Copa, a private-sector company (A Semana).
CAPE VERDE IN 2030
Atlantico Weekly is looking ahead! Check out our Cape Verde in 2030 with a realistic glimpse of how Cape Verde will look like in the next decades …!