ADVERTISEMENT


MEET OUR CONSULTANCY
Are you planning on doing business in Cape Verde? Get there with
Atlantico Business Development
business diplomacy
economic intelligence
political risk assessment
market scans
more here.
NEWS
Cape Verde needs the partnership of the international community to continue to develop with strategies, targets and performance indicators, and with a sense of commitment and responsibility, said Prime Minister José Maria Neves in his speech this morning in the 8th European Development Days, currently taking place in Brussels. Speaking on a panel focused on the post-2015 agenda, Neves stressed, however, that the responsibility for projecting Cape Verde, which intends to be a developed country by 2030, is first and foremost that of Cape Verdeans (A Semana).
WHAT IS THE BEST RESTAURANT OF CAPE VERDE 2013?
Check out the results of Atlantico Weekly's poll on the Best Restaurant of Cape Verde in 2013.
– INTERVIEW –
Atlantico Weekly recently spoke with Cape Verde's Prime Minister José Maria Neves about Cape Verde's business opportunities, development strategy, privatisations, new property tax law, international relations and much more in: Islands of Sun and Freedom in a Sea of Opportunities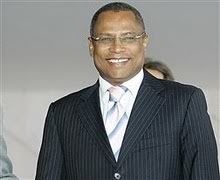 – ENTREVISTA –

Atlantico Weekly falou com o Primeiro-Ministro de Cabo Verde, Dr José Maria Neves, sobre as opportunidades de negócios em Cabo Verde, a stratégia de desenvolvimento, mudanças na tributação, as privatisações, as relações internacionais e muito mais em: Ilhas de Sol e Liberdade num Mar de Oportunidades
BEST CAPE VERDE MUSIC & BOOKS
Be welcome to check out Atlantico Weekly's music cd and book store in cooperation with Amazon.com! Browse the Atlantico Store for the latest and best Cape Verde and Angolan music, like Cesaria Evora, Tito Paris, Lura, Nancy Vieira, Mayra Andrade, Bonga and many others…! Also use the Atlantico Store to find relevant maps, books on politics, economics and history as well as travel or tourist guides about Cape Verde and Angola. You order straight with Amazon, one of the best online stores in the world. Enjoy!
ADVERTISE NOW ON ATLANTICO WEEKLY AND GET HUGE DISCOUNTS!
Atlantico Weekly now offers huge discounts to companies wishing to promote their business on our website.
Rates for ads with picture, link and a bit of text in one of the three columns on our front page now start at only 499 Euros for a 26 weekly edition period or only 999 Euros for a 52 weekly edition period (excluding taxes and money transfer costs).
Contact us for more info and our range of other advertising and promotion offers!
ECONOMY
Some 8,000 visitors and ninety businesses and entities from Cape Verde, Italy, Brazil and Portugal were present at the 17th edition of the Cape Verde International Trade Fair (FIC), which came to a close November 24, on the island of São Vicente. Among foreign participants, Portugal had the largest number of businesses exhibiting their products – an expressive 27. The next edition of the FIC will be held next November in the city of Praia (A Semana).
AVIATION
China's OK Airways plans to acquire a stake in Cape Verdean flagship airline Transportes Aéreos de Cabo Verde (TACV) and to operate its routes to Africa, Brazil,, Europe and the United States, according to Cape Verdean newspaper A Semana. OK Airways was founded in 2004 and started operating a year later. It is based at Tianjin airport and from there offers 20 passenger routes in China, as well as a cargo service. The airline's current fleet is made up of seven aircraft – two 737-300s, three 737-800s and two Xian MA-60s.
TACV is also negotiating regular flights to several countries and plans to use Beja airport, as of April 2014, as a stop over, said the airline's delegate for Portugal, Mário Almeida.
Meanwhile Binter Canarias airlines, already active on the Las Palmas-Praia route has started talks to offer domestic connections inside Cape Verde.
BUSINESS
Cabo Verde Telecom has denied responsibility for cuts in Internet service last Friday on the islands of São Vicente and Santo Antão. In a press release, the company used the words "unfounded and wrong" in characterizing the information provided by its competitor, Unitel, which over the weekend accused CV Telecom of taking too long to restore Internet service on the two islands. CV Telecom promises to take legal action (A Semana).
THE GRAND TOUR OF CAPE VERDE
Check out The Grand Tour of Cape Verde, Atlantico Weekly's travel guide to the country's main islands Santiago, Sal, Santo Antao, Boa Vista and Sao Vicente. Agora tambem em Portugues!
SANTO ANTAO
The Ribeirão Integrated Community Development Association (AMI-RIBEIRAO) in Santo Antão's Ribeira Grande valley unveiled the area's first solar energy system, to be used to pump water for irrigation and public consumption, November 21 (A Semana).
TOURISM
National Geographic has included Cape Verde as one of its "Best Trips" for 2014. According to the publication's editors, the end-of-the-year guide reflects that which is most "authentic, culturally rich, sustainable and, of course, superlative in the current world of travel" (A Semana).
AGORA TAMBEM EM PORTUGUES!
O Grand Tour de Cabo Verde esta a ser traduzido em Portugues! Começamos na Ilha de Santiago e ja seguimos para a Ilha de Sao Vicente e a Ilha de Santo Antao…
SPLIT SECOND POLLS