ADVERTISEMENT


MEET OUR CONSULTANCY
Are you planning on doing business in Cape Verde? Get there with
Atlantico Business Development
business diplomacy
economic intelligence
political risk assessment
market scans
more here.
NEWS
A first ever Dutch trade mission is set to reach Cape Verde in March 2014. The mission will be organised by Dutch consultancy Atlantico Business Development of Rotterdam, a company focusing on Lusophone Africa, on behalf of the Dutch Embassy in Dakar. More information – in Dutch – can be found here.
The European Union has adopted harsher sanctions against shark finning. In Cape Verde, the practice is also prohibited, but the increase in demand for the "delicacy" on the European market is encouraging the activity in Cape Verdean waters, placing the region's entire ecosystem in danger (A Semana).
The European Union has expressed its willingness to help Cape Verde achieve 100% renewable energy coverage by 2020, according to Prime Minister José Maria Neves (A Semana).
WHAT IS THE BEST RESTAURANT OF CAPE VERDE 2013?
Check out the results of Atlantico Weekly's poll on the Best Restaurant of Cape Verde in 2013.
– INTERVIEW –
Atlantico Weekly recently spoke with Cape Verde's Prime Minister José Maria Neves about Cape Verde's business opportunities, development strategy, privatisations, new property tax law, international relations and much more in: Islands of Sun and Freedom in a Sea of Opportunities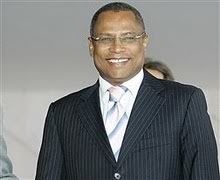 – ENTREVISTA –

Atlantico Weekly falou com o Primeiro-Ministro de Cabo Verde, Dr José Maria Neves, sobre as opportunidades de negócios em Cabo Verde, a stratégia de desenvolvimento, mudanças na tributação, as privatisações, as relações internacionais e muito mais em: Ilhas de Sol e Liberdade num Mar de Oportunidades
BEST CAPE VERDE MUSIC & BOOKS
Be welcome to check out Atlantico Weekly's music cd and book store in cooperation with Amazon.com! Browse the Atlantico Store for the latest and best Cape Verde and Angolan music, like Cesaria Evora, Tito Paris, Lura, Nancy Vieira, Mayra Andrade, Bonga and many others…! Also use the Atlantico Store to find relevant maps, books on politics, economics and history as well as travel or tourist guides about Cape Verde and Angola. You order straight with Amazon, one of the best online stores in the world. Enjoy!
ADVERTISE NOW ON ATLANTICO WEEKLY AND GET HUGE DISCOUNTS!
Atlantico Weekly now offers huge discounts to companies wishing to promote their business on our website.
Rates for ads with picture, link and a bit of text in one of the three columns on our front page now start at only 499 Euros for a 26 weekly edition period or only 999 Euros for a 52 weekly edition period (excluding taxes and money transfer costs).
Contact us for more info and our range of other advertising and promotion offers!
AVIATION
Cabo Verde's aviation agency Aeroportos e Segurança Aérea (ASA) will ensure the handling services at the country's airports as of 2014, via Ground Handling, a company that is due to be set up soon, local press reported. According to Cape Verdean weekly A Semana, this will be the first step in the privatisation of airline Transportes Aéreos de Cabo Verde (TACV), as the flagship airline currently carries out those services.
BUSINESS
Banco BIC presented its planed entry in Cape Verde, with a starting capital of 30 million euro (3.3 billion escudos). The Chairman of the Board of Directors (PCA) of BIC Cabo Verde, Fernando Teles, said the bank will enter in the Cape Verdean market after the acquisition of the old Portuguese Bank of Business (BPN). BIC, which is based in Portugal and Angola, is one of Africa's most capitalized banks, since it has a volume of investment in Angola of about 400 million euros (44 billion escudos).
Maria Chaves wines, the result of a project elaborated by the Association for Solidarity and Development (ASDE), are being exported to the Netherlands, Italy, Germany, Portugal and France, and in the near future are also expected to be available in the United States of America. The news comes from Philippe Gardin, the manager of Cabo Intex, the company that will take the Cape Verdean wine beyond the country's borders (A Semana).
Representatives of the state-held China Road & Bridge Corporation (CRBC) showed interest in taking part in infrastructure projects in Cape Verde. During the meeting with José Maria Neves in Praia, the CRBC representatives said that the company was also available to help gather funds to enable those infrastructure projects to go ahead. The Cape Verdean prime minister was asked to present a list of projects deemed priority by his government. The China Road & Bridge Corporation is present in at least 20 African countries, including Gabon, Republic of the Congo, Mozambique, Equatorial Guinea and Angola, local press reported.
THE GRAND TOUR OF CAPE VERDE
Check out The Grand Tour of Cape Verde, Atlantico Weekly's travel guide to the country's main islands Santiago, Sal, Santo Antao, Boa Vista and Sao Vicente. Agora tambem em Portugues!
AGORA TAMBEM EM PORTUGUES!
O Grand Tour de Cabo Verde esta a ser traduzido em Portugues! Começamos na Ilha de Santiago e ja seguimos para a Ilha de Sao Vicente e a Ilha de Santo Antao…
SPLIT SECOND POLLS