ADVERTISEMENT
MEET OUR CONSULTANCY
Are you planning on doing business in Cape Verde? Get there with
Atlantico Business Development
business diplomacy
economic intelligence
political risk assessment
market scans
more here.
NEWS
The IMF has advised the Cape Verde government to reign in governmetn spending this year (Rotterdam Week).
WHAT IS THE BEST RESTAURANT OF CAPE VERDE 2013?
Check out the results of Atlantico Weekly's poll on the Best Restaurant of Cape Verde in 2013.
– INTERVIEW –
Atlantico Weekly recently spoke with Cape Verde's Prime Minister José Maria Neves about Cape Verde's business opportunities, development strategy, privatisations, new property tax law, international relations and much more in: Islands of Sun and Freedom in a Sea of Opportunities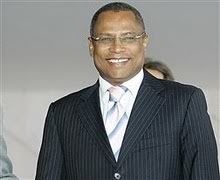 – ENTREVISTA –
Atlantico Weekly falou com o Primeiro-Ministro de Cabo Verde, Dr José Maria Neves, sobre as opportunidades de negócios em Cabo Verde, a stratégia de desenvolvimento, mudanças na tributação, as privatisações, as relações internacionais e muito mais em: Ilhas de Sol e Liberdade num Mar de Oportunidades
ADVERTISE NOW ON ATLANTICO WEEKLY AND GET HUGE DISCOUNTS!
Atlantico Weekly now offers huge discounts to companies wishing to promote their business on our website.
Rates for ads with picture, link and a bit of text in one of the three columns on our front page now start at only 499 Euros for a 26 weekly edition period or only 999 Euros for a 52 weekly edition period (excluding taxes and money transfer costs).
Contact us for more info and our range of other advertising and promotion offers!
ECONOMY
A venture capital fund to small and medium-sized companies is due to be launched at the "1st Summit on Innovation in Africa," to be held on 4 and 5 February, said the chairman of Cabo Verde's Agency for Business Development and Innovation (ADEI), which set up the fund, local press reported.
The Cape Verdean subsidiary of Angola's Banco Angolano de Investimento (BAI) has carried out a capital increase in order to keep up with expansion of Cabo Verde's banking market, local press reported. The capital increase was of 330 million Cape Verdean escudos, and the bank now has capital of 1.33 billion escudos (US$28.8 million).
Cabo Verde's economic climate indicator in the fourth quarter of 2013 kicked the downward trend of previous quarters despite remaining below average for the series, the National Statistics Institute (INE) said. INE said that the economic climate indicator had worsened as compared to the same period of 2012, and the country's economic outlook remained unfavourable.
A Chinese company has shown interest in the privatisation of Cabo Verde's airline Transportes Aéreos de Cabo Verde (TACV), minister for finance and Planning, Cristina Duarte said. According to the local press the company might be Okay Airlines.
THE GRAND TOUR OF CAPE VERDE
Check out The Grand Tour of Cape Verde, Atlantico Weekly's travel guide to the country's main islands Santiago, Sal, Santo Antao, Boa Vista and Sao Vicente. Agora tambem em Portugues!
TOURISM
A group of European travel agents Saturday visited Santa Mónica beach, on the island of Boa Vista, in Cabo Verde (Cape Verde), to see the location where the future White Sands Beach and Spa resort will be built, Cape Verdean newspaper A Semana reported. Santa Mónica, an idyllic 18-kilometre white sand beach was chosen to build the 835-room resort at the end of 2015.
AGORA TAMBEM EM PORTUGUES!
O Grand Tour de Cabo Verde esta a ser traduzido em Portugues! Começamos na Ilha de Santiago e ja seguimos para a Ilha de Sao Vicente e a Ilha de Santo Antao…
SPLIT SECOND POLL
OTHER NEWS
Will the DA break through? South Africa's Democratic Alliance and the 2014 elections (Rotterdam Week).
Julius Malema's Economic Freedom Fighters have arrived. Will they succeed in capturing voters? Who will benefit from them? Check it out at Rotterdam Week.