Our visitor leaves Santo Antão for São Vicente in order to continue his or her journey to Sal Island. We said before that São Vicente is best appreciated during the weekends. So most likely our visitor returns to São Vicente on a Friday or Saturday and he is going to spend at least one more night in Soncent to listen to good music and possibly to join some good paródia.
On Sunday you catch a plane for Sal (Salt Island). The flight lasts about 30-40 minutes. After take off the plane turns east high above Mindelo and you can see the town well. Later you might catch a glimp of Santa Luzia, a large, wild and uninhabited island, where wildlife still has free reign. It is possible to visit Santa Luzia from São Vicente, for instance with the help of fishermen or other small boat owners in Calhau resort. You can picknick there and return the same day.
Another island you pass by on your way from São Vicente to Sal is São Nicolau island, still a bit off the beaten track and largely ignored by foreign tourists, bar one or two hikers. We will leave São Nicolau for a future edition of the Grand Tour of Cape Verde.
Landing on Sal will give you a grand overview of the touristic developments on the island, especially around the Santa Maria area, where hotels, resorts and real estate projects are now starting to sprawl out along the coast.
Amilcar Cabral Airport, one of the largest and best equipped in West Africa, has an intriguing history. Started by the Mussolini government in the 1930s with approval of the Portuguese, the Italians planned to use Sal as a refuelling point for long haul flights to Latin America. World War Two interrupted these dreams.
Much later, when South African Airways (SAL in Afrikaans) was denied over-flying rights by most African countries in the 1960s, the airline arranged with the Portuguese the  right to refuel and change crews at Sal in order to maintain services to its European and American destinations. The runway was enlarged to take bigger aircraft.
This practice continued after 1975, when the same landing rights were obtained from the Capeverdean governments by SAA. Interestingly, Sal airport more or less simultanously became a refuelling base for Russian airplanes carrying Cuban troops and equipment to Angola during that country's conflict with South Africa. It must have been a colourfull period in the history of Sal. In 2006 however, SAA switched its operations to Dakar in Senegal.
The sparsely populated island's economy depended for centuries on the collection of salt and this product – as you might have guessed – gave its name to the island. Businessmen in post-independence Cape Verde decided to develop the tourist industry on the island, making good use of the excellent airport facilities, the hotels needed for flight crews and abundant sunny weather.
It rarely rains on Sal and the island is ideal for a lazy beach holiday. There are nice sandy beaches, lots of good hotels and plenty of activities. The island is well known among surfers. Santa Maria is the main tourist town and these days home to over two thirds of Sal's population. Due to the large numbers of European holidaymakers and expats, African immigrants and international building styles the town hardly feels like Cape Verde. Something entirely new is being created here, by both foreign and local investors. There is even a political movement to make the town independent from Sal Municipality.
The airport, plenty of real estate options and good hotels will make sure this island has a bright future. It will be interesting to watch Sal develop over the next decade. In spite of the economic crisis , several new developments have been announced for Santa Maria, such as a Hilton Hotel.
Signs of sophistication can be seen already. A yearly Cape Verde International Film Festival is now organised every October and the beating hart of a turtle protection movement is based on Sal.
A dual lane expressway connects the airport to Sal and your taxi will speed along it as fast as possible. In Santa Maria there is a wide choice of hotels. Two of the best are the Morabeza and the Odjo d'Agua, both in the centre of town and smack bang on the beach. They have good restaurants too, especially the one at Odjo d'Agua, where you can taste such niceties as tartare of serra (a typical Capeverdean fish).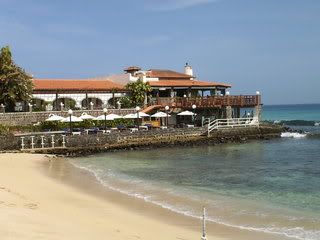 There are plenty of other eateries in Santa Maria and several on the nice patch of beach between the Morabeza and Odjo d'Agua hotels, like the Barracuda and the Sal Beach Club.
Santa Maria also has good budget hotels, such as the locally owned Hotel Pontao, with its own garden and pool.
You can have a drink at one of the bars on Santa Maria's main street, such as the long established Chill Out or Pub Kalema. Don't miss sipping a cocktail or two at the smart Blu bar. A lively place also is the nearby Ocean Cafe. Nightlife in Sal must be rivalling that in Mindelo. But if you are looking for a night out without to many tourists and with a distinct Capeverdean flavour, you'd better head back for Espargos, the town that grew around the airport.
You can spend as many days as you like on Sal and perfect your tan. There are many flights from the island to Europe and elsewhere, so you do not have to fly back to the capital Praia.