(mudar para Portugues) Before you book a plane to São Vicente there is just one crucial thing you need to know. São Vicente is best appreciated on weekends, when there is lots of live music and entertainment, lots of partying and lots of dancing. During the week, the island quietly works its way to the next weekend.
São Vicente is the country's cultural capital, which includes a specifically homegrown tradition of paródia or partying. Though these days Praia is catching up with São Vicente when it comes to nightlife, so far it's the latter where things are still done more convincingly.
So we strongly suggest to visit Santiago during the week and head off for São
Vicente on a guaranteed sunny Friday morning. Be sure to book your flight well in advance as on Friday planes to São Vicente tend to be filled to the max.
Soncent – as the locals know it – has got a lot going for it. A nice and intimate town of 80.000, its capital (and only town) Mindelo is a knock out. Set on a large natural bay (Porto Grande), Mindelo was once famous as a bunker place for oceanic shipping (and other activities sailors used to do in the old days when on shore). The town has plenty of sun in combination with a moderate wind to cool you down during long nights.
On the other side of the Porto Grande bay lies Monte Cara, or Face Mountain: its contours resemble a face of someone lying on its back. Further in the hazy distance you will make out the mountainous island of Santo Antao. The whole setting is magical and the light is perfect. It hardly ever rains on Soncent!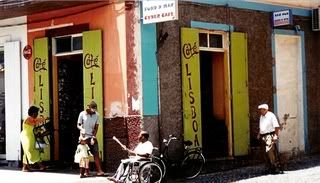 The island may have a reputation for paródia, but note that Mindelo used to be Cape Verde's most important urban centre before independence from Portugal in 1975. It still is an important port (with good facilities and a large shiprepair yard) and there is an industrial freezone near the airport. Lots of cash has been invested in new real estate projects lately, though larger developments like tourist resorts are still in the pipeline.
Next to the airport at São Pedro there is an excellent beach resort, Foya Branca, but if tasting Mindelo's culture and nightlife is what you are after, head straight for the town centre. There are plenty of good hotels and pensions and the best and most stylish option is the Hotel Porto Grande on the Praça Nova or New Square. The rooms need updating, but the view over the bay, the great terrace and the swimming pool around the back make up for that. Some of Cape Verde's best musicians, like Tito Paris, Bau and many others, regularly play there on Friday's and Saturday's. You may get to know them all personally during your stay in Soncent!
Other good options for spending the night are a fine range of pensions or residenciais. Two of these have particularly nice views, the Jenny and the Mimagui. The latter offers some excellent long stay apartments as well. In the centre of town you may try the Hotel Gaudi, run by an Hungarian couple.
Upon arrival, use the rest of your Friday for getting to know the town on foot. Check out the area around Rua de Lisboa (or depending on your political outlook: Rua Libertadores d'Africa) and the townhall. Sip a coffee or fresh juice at the tiny and intimate Cafe Lisboa, which is by the way the first thing the editor of Atlantico Weekly will do after arriving in Soncent. Also have some lunch at the extremely nice Casa Cafe Mindelo. Nearby is the excellent and free Mediateca, where you can catch up with a range of international magazines and publications. On the waterfront a new development is the Pont d'Agua, a clusters of shops, bars and restaurants plus a swimming pool, built in the waters of the Porto Grande. If chatting up to real sailors is your thing, bluff your way into the Marina Club, a floating bar in the marina, next to the Pont d'Agua.
Do visit the tidy Municipal Market on Rua de Lisboa. On the first floor you will find one of Cape Verde's best music stores. Drop by at the Centro Cultural on the Avenida Marginal. There might be an exhibition and the bookstore is interesting.
At night there are lots of good options for dinner. Many people will recommend you to go to Archote, one of Soncent's older eateries with live music on weekends and that's exactly what it is. But it has recently been completely renovated. You can also try Sodade (take a taxi), another longstanding and well established restaurant, but with a smashing view. Two other large restaurants are also worth mentioning. Both sit in the same building on Mindelo's waterfront, near the replica of Lisbon's Torre de Belem. They are the Tradissom & Morabeza and the Kasa d'Ajinha, both offering live music on several occasions. The latter place deserves a little attention. It was founded in early 2011 and it boasts – besides a certain Capeverdianistic attitude – a unique formula of serving only tchuk (porc) and fish (and no chicken nor beef). Latest kid on the block is the new O Cordel (taxi required, but they also do hotel pick ups). This restaurant may be setting new standards for  modern Capeverdean cuisine, while also offering a range of international steak options.
An institution is Chez Loutcha on Rua de Coco, serving a wide range of consistently well preared Capeverdean and Senegalese dishes.
After dinner take a drink at the Kiosk on the square opposite the Hotel Porto Grande and wait for Mindelo's nightlife to explode. You will soon notice the crowds patrolling the square and folks checking each other out before heading off to private parties or discotheques. But first listen to some excellent live music at the Hotel Porto Grande or in one of the several music cafe's around the centre. Be assured of some big Capeverdean names playing Soncent just about every weekend.
Then, after 01.00 hrs,  do as everybody else and find yourself a discoteca or boite. Sirius, below the Hotel Porto Grande caters to a very young crowd, but we prefer Cave, just a few blocks away from the square. Cave is a very intimate and safe place and it is more suitable for a – let's put it nicely – "slightly older"  public. It is the place where you might learn a bit or two about Capeverdean dancestyles, most notably zouk and CaboLove. Be prepared for some close encounters in the dark!
When you wake up on Saturday morning, after an invigorating first night on Soncent, there is just one sensible thing to do: go to the beach. Mindelo's popular city beach is Laginha, a short walk from the centre. There are some cafe's in Laginha, offering a good choice for a light lunch or snack. Caravela offers particularly nice view across Porto Grande bay.
Otherwise take a taxi and set off for Baia das Gatas on the other side of the island. The cab will bring you across some mountains, passing below Monte Verde or Green Mountain, Soncent's highest peak. Down in the bay there is a nice beach, suitable for bathing. The town of Baia das Gatas is a straighforward resort town, including a handfull of restaurants. You can have a nice lobster here.
After bathing, take a cab and drive to Calhau along the new beach road, past Baia Norte. Calhau is another small resort town. Drive back through the interior valley of São Vicente to Mindelo, passing date palms and the island's main water springs at Madeiral.
Alternatively one could also catch the free shuttle bus to Foya Branca resort at Sao Pedro, that leaves from the top end of Rua de Lisboa and enjoy a day at the pool plus lunch at the hotel's restaurant.
By the way, on Sundays only, Chez Loutcha open their restaurant at Calhau for a huge buffet lunch. Book in advance. You could go there on your own account or take Chez Loutcha's free bus, which leaves at 12.30 hrs from the restaurant on Rua de Coco. The same bus will carry the band and the dancers, who will perform during and after the lunch. The whole adventure will give you a full Capeverdean gastronomic and musical experience!
Back to our story. As it is Saturday evening by now, you can enjoy your second night out on the island, in a similar fashion as the previous one. On Sunday afternoon you should take the ferry to Santo Antao, for a relaxing week among Cape Verde's farming community.