Ever wondered how Cape Verde would look in the future? This is a serious question for politicians, businessmen and investors. But the future of any country is unpredictable and we are not eager at Atlantico Weekly to burn our fingers at predicting anything. Yet, there are certain trends to note and serious forecasts about population and economic growth are available. Also, a good number of known planned private and government projects – if carried out of course – may give lots of indications about how the country might look like in the future.
So let's do the exercise! Not going in too deep and without any political agenda, we at Atlantico Weekly will try to sketch the economy of Cape Verde around the year 2030, only 18 years from now… It will be a positive and optimistic vision, but a realistic one, we think. Things may happen or not or they may happen in a different way, which we will see. But this vision, how unscientific it may be, will hopefully serve as inspiration to our readers.
To begin with, there are a couple of things we can be sure of. In 2030 Cape Verde will be a richer country, with lots more people living in it. Internally, the country will be better integrated. It's population will be even more ethnically and culturally diverse. Cape Verde will receive millions of tourists per year from abroad. Cape Verde will be an international business hub in the South Atlantic. But most importantly: it will be a place to live well for many.
Population growth

Based on various calculations Cape Verde – with over 500.000 people in 2012 – may have between 800.000 and 850.000 inhabitants in 2030. Most of its growth will be internally driven due to a young population, but an increasing number of emigrants may come back from abroad in the next years, looking for a good last leg of their life. Equally interesting will be the arrival of more and more foreigners: expatriate and retired Europeans, people owning apartments and villa's in one of many real estate projects, but also economic immigrants: Portuguese and Africans mainly.
"Cape Verde in 2030 will be an immigration country"
Cape Verde in 2030 will in fact be an immigration country, unlike in its past. The abundance of relatively cheap real estate, the growing tourism industry, the year round sun, a stable political climate and booming economy will attract many. On some islands this influx will be more visible than on others, for instance on Sal and Boavista, both of which already have an interesting population mix of local islanders, locals from other islands, Europeans and Africans. The same will go for parts of the capital Praia, Mindelo and Porto Novo. A small Chinese business community will be increasingly present on all islands.
Economic growth

The various future governments will no doubt all be business friendly and encourage investments, thus facilitating continued high growth rates like the 6 or 7% predicted for the coming years. The newly created International Business Centre will provide tax facilities for foreign companies and international operations of local companies. It will be the Cape Verde's economic trump card and attract thousands of foreign businesses until 2025 (the end date as stipulated by law). This phenomenon will create a steady flow of business travellers, which is good for hoteliers and the catering industry. But it will also lead to lots of working hours for lawyers, bankers and accountants.
"The International Business Centre will be the Cape Verde's economic trump card and attract thousands of foreign businesses"
Tourism
Tourism however will become the mainstay of the economy for the next decades, with dozens of new hotels and resorts opening on most islands. Many of these projects are already being planned or developed at the moment, both by large foreign groups and by local entrepreneurs. Some will take more time than others to materialize, but be assured that by 2030 most projects announced years ago will be ready, with or without their original protagonists. Other projects, yet to be planned, will follow. Many coastal areas will have become thriving resort towns in that year, providing thousands of jobs for the population and pumping billions of Euros in the local economy. Another interesting development to watch will be the coming of age of an internal tourist and travel market that goes hand in hand with the growing economy. When more people can afford it, they will visit other islands.
Island by island: Sal has a great future for tourism and fun. But it could also host international sports events,  conventions and conferences and offshore services. This might become the country's most cosmopolitan island. Boa Vista has an equally great future for quality tourism.
The construction and real estate sectors are another driver of the economy in the years to come and of course closely associated with the tourism sector. But not only: many municipalities of Cape Verde now have extensive housing programs for new neighbourhoods and not just for the rich. There may be high demand for construction workers, which will possibly have to be imported. Some companies involved already employ many foreigners, mainly Portuguese.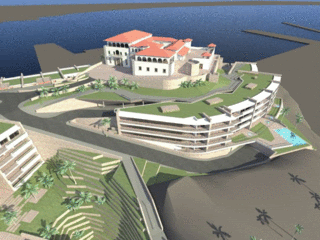 Growth of local industries and agribusiness
Cape Verde will face the biggest challenges in the industry and agricultural sectors. Thanks to the construction of several big reservoirs on Santiago, Santo Antão and São Nicolau the government will finally provide a stable supply of water for most farmlands. But rising wages will increase costs for small farmers and more diverse economic options for the young may tempt them to leave the lands of their families and move to towns or other islands. Inevitably, farmland will be concentrated in fewer hands. Gentrification of lush and fertile valleys like on Santo Antão will decrease the amount of available traditional smallholder farmland and turn them into gardens or hobby farms.
"Foreign agribusiness companies will develop virgin lands around Porto Novo"
Instead it will be up to big and mainly foreign agribusiness companies who may endeavour to develop huge tracts of virgin lands, for instance around Porto Novo on Santo Antão, once water will become available by transferring it from other parts of the island. Cape Verde will have to attract those agribusiness companies actively and provide opportunities for them to produce wine, oranges and other products that will help decrease imports. But it can be done by 2030.
Island by island: Santo Antão will be the home of the country's agribusiness, but Porto Novo will be a major boom town, boosted by the port, airport, tourism and light food processing industries. Marinas will dot the island's coast and the valleys in the north will see heavy gentrification by Capeverdeans and foreigners.
The same will go for industrial products. The country needs to be attractive for manufacturing products for export or local consumption to improve its trade balance. The growing internal markets of Cape Verde may do the trick, together with the new tax breaks and industrial free zones, like the one in São Vicente.
"A growing local middle class will demand new products"
Like we said, the population will not only grow, it will also change in character and become on average much more affluent. A growing local middle class will demand new products and some stuff will have to be imported at first. Then there is the local growing market of expatriates, who will stimulate the local economy more than average. Thirdly, millions of tourists will stay in the country yearly and they will need food and other products daily. All these factors may or should form a better basis for an expanding Cape Verde industry and attracting new investors.
Island by island: São Vicente's economy will be driven by resorts, tourism in general, the port and light manufacturing.
Aviation
These growing sectors will create even more strain on the country's logistics and infrastructure: airports, roads and seaports. But the basic conditions have already been created and the next governments will only need to build further on those. When Santo Antão will have its airport in a few years, gone will be the pressure on the government to build more airports. Praia's Airport will be expanded to be the country's main hub, something that is already being studied. The capital in the future will attract most intercontinental connections, with flights to and from the US, Brazil as well as African and EU capitals.
"Praia's Airport will be expanded to be the country's main hub"
Maybe South African Airways will come back to Cape Verde for its intercontinental operations, once political unrest or islamic militants continue to destabilize Senegal. But then it is more likely that SAA will use Praia in the future instead of Sal Airport in the past. No doubt a growing number of EU airlines will start flying to Cape Verde in the coming decade: British Airways, Air France, KLM, Iberia, Lufthansa, Alitalia will all want to tap in the growing expatriate, business and tourist market. This will be just a matter of time. The airports of Sal, Boavista, Santo Antão and São Vicente will be receiving most charter flights to the country from the EU and vice versa.
———-
MEET OUR CONSULTANCY
Are you planning on doing business in Cape Verde? Get there with
Atlantico Business Development
We are specialists in business diplomacy in Cape Verde. Atlantico Business Development can prepare your local entry, carry out your market scans, get those highly valued business leads for you and of course much more…
———-
It is hard to predict the fate of TACV, Cape Verde's tormented flag carrier. No doubt it will still be there in 2030 and hopefully it will have reinvented itself. If local and foreign private investors are allowed to step in, that might alleviate the impossible set of tasks imposed to TACV in the past. This beleaguered business now has to maintain flights with the diaspora communities in the US and Europe, while providing vital domestic connections between most islands and on top of that – and equally important – bring in much needed tourists. Three completely different markets, to be served with five planes! Maybe it will stick to one or two of those tasks and focus on them or maybe TACV will be split up in two companies: a domestic one and a low cost carrier to serve tourists and emigrants.
Anyway, in 2030 we may still hear the happy sound of turboprop planes on Cape Verde's runways and we will still fly in and out on a Boeing from Boston or Amsterdam. But one could also envisage a couple of smart Embraer medium sized jets whizzing through the skies,  obtained on a cheap loan from Brazil. They will be serving the country's main triangular route (Praia, Mindelo, Sal) in an hourly schedule (Ponte Aerea), as well as a few regional ones to West Africa, Portugal and North Eastern Brazil.
Transport and logistics
Cape Verde's road system has been greatly improved over the past few years. The most needed roads have been built and the most important existing one have been upgraded. This process will continue for several years. Some new roads are still needed for the development of the islands, but by 2030 they will easily all have materialised. Examples are a coastal road from Porto Novo to Monte Trigo on Santo Antão and roads to São Vicente's more isolated beaches. With upgrading and improving a few more rural roads, including digging a couple of strategically located tunnels, most areas of the interior of Santo Antão and Santiago will be better accessible by 2030.
"Sea-land transport corridors will integrate clusters of islands"
Sea ports will have to be expanded however time and again in this expanding economy. There will be lively transport of agricultural and other products between all islands. Porto Novo, Porto Grande, Praia and Palmeira ports will all have expanded quite a bit by 2030. Most internal transport however will be done by truck and ferry. With a few well aimed investments in new well located ferry terminals the country's transport system can be greatly improved. This may lead to the creation of so called sea-land transport corridors, for instance between Santo Antão, São Vicente and São Nicolau.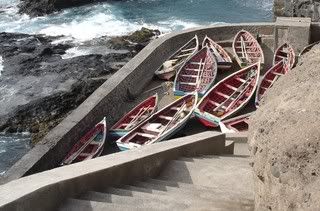 In that scenario, tarmac roads lead from several valleys of Santo Antão towards Porto Novo. Fast ferries run by several companies leave from there by the hour on a 30 minute journey to Mindelo. There the trucks and other vehicles disembark and drive straight to Calhau on the other side of the island where they embark on another fast ferry in a newly built terminal and marina complex. In less than 1,5 hrs this fast ferry reaches Tarrafal on São Nicolau and there the vehicles disembark arriving at their destination a little while later.
With well situated new ferry terminals (on points nearest to the next island) and enough supply of ferry boats, the upgraded existing roads can handle the increased traffic expected in an emerging market. Long distance public buses may also use these corridors, once regulation is in place to ban chuvites and hiaces as passenger transports.
The new terminals will be saving sailing time and making room for other activities in the countries main ports. Maritime tourism will be on the up. The islands will be dotted with marinas to serve international yachts and special terminals will serve dozens of cruise ships a year. These activities will have to be separated from already cramped cargo ports.
A similar system may work in the south where fast ferries can connect from a point east of Praia to Maio Island and west from near Cidade Velha or Porto Gouveia to the eastern coast of Fogo. Another similar ferry service might come in existence between Santa Maria on Sal and Sal Rei on Boa Vista. This system will make it possible to travel with your own car between various islands in a shortest possible time. You may even "drive back" the same day. Of course bigger ferries will provide connections between the country's main ports and towns, Mindelo, Praia and Palmeira.
Foreign relations
Where will all the money come from for all of these new developments you might wonder? Of course part of it will come from private investors, in the tourism industry especially. The country's traditional partners will keep on providing development funds, but the picture may change. The US will remain staunchly committed to aiding Cape Verde, possibly also for strategic reasons when islamic radicals start heating up in West Africa. China too will remain interested in the country for strategic reasons, so yuans will keep on rolling. The same could be said for Brazil, though so far that country has not yet shown its full capacity for assisting the development of Cape Verde. On the African continent the most promising partner looks set to be Angola and the first investments from that oil exporting country already have arrived.
"Brazil has not yet shown its full capacity for assisting the development of Cape Verde"

Africa on the whole is predicted to be the next emerging market of the world, so that is another promising development for Cape Verde as an offshore business hub.
Individual EU member states may scale their aid programs down and Cape Verde's focus may shift to the European Commission itself. Once the Euro crisis is over and the EU again looks like the best and most promising natural partner for Cape Verde, a new round of talks may begin with Brussels. There will again be talk of EU-membership for Cape Verde, which is not unthinkable. But this will be up to debate and no doubt the debate will be a hot one, both in Cape Verde and in the EU. The country will have to face close investigation by EU officials and institutions and this should only be done when there is a fair chance and desire of joining the Union. However, EU pre-accession funds will be tempting and once Cape Verde has become an EU member there will be agriculture funds and infrastructure programs to tap. We at Atlantico Weekly think there is a 50% chance Cape Verde may have joined the EU in 2030, possibly long before that date.
Island by island: On Santiago, the capital Praia will grow to a metropolitan region from Porto Gouveia in the west to beyond São Francisco in the east, where some 300.000 people may live and work. A light rail will run through the city and a new Central Business District will develop along the Avenida de Lisboa, stretching from the old Sucupira market and 5th of July Park to Gamboa Beach.
Defense and security
Security wise Cape Verde will not be threatened by any nation in the next decades, nor by international terrorists for that matter. Nevertheless the country will maintain a small security force, focusing on costly air and sea patrol (and rescue) by its Coast Guard. The small army could join international peacekeeping missions to gain more experience and to give Cape Verde's government international prestige and a little bit of influence. No doubt there will be more exercises with NATO forces on Capeverdean soil. There is a fair chance Cape Verde will have joined NATO by 2030 too. It is also thinkable that the US will want a small base in the country as a stepping stone for future operations in West Africa. Such a base would provide extra security for decades to come and it could also lead to some extra local investment and development in an area where tourism is less of an opportunity.
Island by island: Fogo might get a small and discreet US base and it will grow plenty of wine, fruits and coffee.
Water and energy
The government could focus on improving the country's utilities and secure a stable and affordable supply of water and energy to everybody. In fact, present and future investments in the energy sector may make Cape Verde the worlds first and probably only country to be 100% self sufficient in renewable energies in 2030. The sun will always shine and the wind will always blow…
Conclusion
So there you have it: Cape Verde, already in 2012 one of the world's most democratic and stable countries, with a free business climate, free press, closely associated to the EU, USA, China and Brazil, will be an even better place by 2030. Capeverdeans should be proud!
March 2012. All rights reserved by Atlantico Weekly.