Mr Abade, thank you for talking to Atlantico Weekly. Could you please tell the readers of Atlantico Weekly who you are? Yes, of course. I am Alexandre Abade, 38 years old, Executive Director of the Oásis Atlântico Hotel group, now working for Oásis Atlântico for almost 11 years. Before that I  worked for Unilever. I hold a university degree in Business Management. Right now I coordinate the hotel division of the Oásis Atlântico group, which means I am responsible for the results both of the units in Cape Verde as well as the Brazilian ones.
Most of our readers may know Oásis Atlântico hotels, but nevertheless, could you describe your company's business aims and the character of the hotels? We have four hotels in Cape Verde and two in Brazil. In Cape Verde we have the Belorizonte and Novorizonte resorts on Sal, the Praiamar Hotel in Praia and the Porto Grande Hotel in Mindelo. In Brazil we run two hotels in Fortaleza. Our hotels are four star, midrange hotels, with a good quality-price ratio. We operate our hotels in close contact with the local communities. This means that we invite people that live near our hotels to use our facilities and participate in the events that we organize, like music shows, gastronomic parties, etc. For our foreign visitors we strive not only to deliver good service, but also to show some of the local characteristics of the places where we operate. Now we are building a new five star hotel resort in Sal, the Salinas Sea, that will open its doors this summer. With this new project we will be able to enter an upscale market that we haven't reached so far with our present units.
Why did Oásis Atlântico decide to become active in Cape Verde? In the early 1990s, during a private visit to Cape Verde, the founders of the company fell in love with the people, the music as well as the beaches of Cape Verde. Soon they decided that there was a business opportunity they could develop. At the same time they felt that, through their investment, they were helping the country with its development and provide its people with a better life.
Is it easy to start and operate a hotel in Cape Verde? Yes, Cape Verde is a country that respects all kinds of investors. It has clear legislation which  is being honoured. So the legal and political environment towards investment is totally favourable. On an operational basis, because Cape Verde is an island country with little local production, there is a big logistical challenge.
Could you name your best highlights or success? Our great success is the success of Cape Verde as an emerging worldwide tourism destination. We have fought alongside Cape Verde to make that happen and, although we are little in size compared to our competitors, we keep on doing so!
What was the biggest problem you encountered with Oásis Atlântico hotels in Cape Verde? Cape Verde as a developing country with a growing economy has its challenges. Logistics is one of them, as a good amount of goods have to be imported. Lack of good utilities (fresh water, electrical power, etc.) is another difficulty. These are just two examples of the problems you have to face with an operation such as ours.
We have heard about some of your plans for the future, like new hotels for Praia and Sal. Could you tell us a bit more about these investments in Cape Verde? We have an ambitious growth plan for Cape Verde. One that we expect to develop regardless of the nasty economical or financial environment that we live in at the moment. We are in the final stages of building a new five star hotel on Sal, the Oásis Salinas Sea Hotel. This will be located on the best part of Santa Maria beach and we expect it to uplift the current range of hotel options that visitors have on the island. The Oásis Salinas Sea Hotel will have no less than 338 rooms, plus two restaurants, two food corners, four or five bars, a large swimming pool, a kids club, among other things. It will also have a conference room for companies that want to mix leisure and work events. In Praia we will build a new five star hotel that will also complete and upgrade our offer in the Cape Verde capital. This new hotel will be built just in front of the Hotel Praiamar (on the site of the now demolished complex that once housed Tabanka Mar restaurant and A Capital disco -AW). We expect it to have around 130 rooms and all the facilities of a five star hotel that has been designed for and aimed at business travellers and the more demanding tourist segment. Oásis Atlântico has also teamed up with a partner that is in the process of obtaining a licence for operating casinos in our hotels in Praia and on Sal. It is a project that we believe could provide some extra value to our costumers, although it is outside our core business.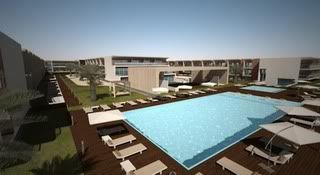 That's impressive! Do you intend to invest also on other islands? We have plans to increase the number of rooms at the Porto Grande Hotel in Mindelo, but only when we feel that there is a growing demand for accommodation in that town. We also have a project for a new resort at Praia de Chaves on Boavista, among other projects that we expect to develop during the next decade on Sal. It is obvious that the Oásis Atlântico Hotel group has a very demanding investment plan, which means of course that we strongly believe in Cape Verde.
That is good to hear. So how do you asses the business and economic outlook for Cape Verde, especially for the tourist and travel market? I expect the market to grow for the years to come, though its growth may now and then be affected by the overall economical climate in Europe. But frankly speaking that is something you can expect to be part of any economical growth cycle. But of course all of us will have to work hard to make it happen – private investors, the public sector, the government, etc.
Thank you very much Mr Abade. I thank you for the opportunity.
April 22, 2012. All rights reserved by Atlantico Weekly.