Hi Barbara, could you please tell the readers of Atlantico Weekly who you are? Sure, I am Barbara Szábo, 36. I was born in Budapest, Hungary, but I lived in a lot of other countries such as Germany, Austria, the UK and Australia. I enrolled in a special high school for tourism at the age of 14. Later I studied Hotel and Tourism Management in Budapest and I gained several years of experience working in hotels, in Vienna, London and Budapest. In Budapest and Austria I worked in small family owned hotels with 20 to 40 rooms. In London I worked at the front office of a Jolly Hotel, a luxury 4 star hotel in the city centre. I always preferred working in small hotels, because there you have better contact with your guests and the work you do offers much more variation. In Germany I worked at the EXPO in Hanover in 2000, selling tickets and accommodation for this special event. Before I came to Cape Verde however, I was active in Hungary in a very different field. Our family business there trades in spare parts for all sorts of household appliances. I managed the company for six years, together with my brother. After a while I discovered the job was not fulfilling anymore. But it was a perfect experience for learning how to run a company. So I started looking for work to combine my managing skills and my experience in tourism. When I came to Cape Verde in 2010, I started out with a restaurant called Chocolate in Mindelo. It was a small project and successful, but the location was not good enough. I looked around for a small pension and I was lucky. I got the opportunity to take over Hotel Gaudi, a building in Mindelo that had attracted me since I arrived. Back then it was love at first sight, but it was not available. Well, the right moment had come!
Could you describe Hotel Gaudi? Hotel Gaudi is situated in Mindelo on the Rua Senador Vera Cruz, just opposite the Municipal Market (Mercado Municipal). Hotel Gaudi is a 10-room hotel with a restaurant. The restaurant has Capeverdean live music every day, because I believe the biggest reason why the tourists come to Mindelo is the music. That's why I try to offer a wide variety of local music. I was very happy when São Pedro Airport was named after Cesária Evora, Cape Verde's most famous singer! I really believe that this music scene makes São Vicente special in Cape Verde, so we have to show our guests at least a bit of it. In the future I would like to give the floor more often to young Cape Verde musicians and show other aspects of Cape Verde's culture.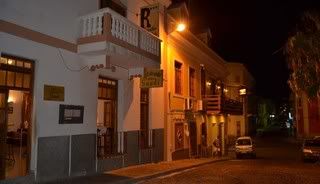 Why did you become an entrepreneur in Cape Verde? I love the people here! When I came to visit a friend – who was living in Praia at the time – I wanted to check Cape Verde for business opportunities in the tourism sector, because it was my dream to return to my profession. I love tourism and I had a great experience in managing a company, so I was looking to combine the two. I also wanted to change my life. I wanted to work less and have a more relaxed life. Well, now I work hard and I have never been so happy in my life! That's because I do what I always wanted to do. I enjoy having a venue where people like to spend their time and enjoy themselves. Another thing is that my Eastern European background is a big advantage here. I am used to situations where you have to solve problems in a creative way, because twenty years ago Hungary was still a socialist country with not enough products on the shelves. In Cape Verde we sometimes have difficulties finding for example the right tools or spare parts. But I have seen in the little time I spent here so far that the variety of products in the shops gets better almost every day. I am also happy to see that the city itself is getting better and better. I really believe in a great future of São Vicente!
Is it easy to start a business in Cape Verde? Starting a business is surprisingly easy, to keep going is another thing. Establishing a company is no problem, you can manage it in two days. Banks however are less flexible. When signing a contract for buying or renting a property, always go to the cartório (registry) to verify the ownership. It's also highly recommended to check your business partners before doing business with them. Personal connections too are very important here. To be patient is one of the things I learned here…
How do you view the market prospects for tourism in São Vicente and Cape Verde in general? I really believe in the development of tourism in Cape Verde, for various reasons: Cape Verde is near to Europe, it has excellent sunny weather during the whole year, you won't encounter dangerous animals and you do not run the risk of getting dangerous diseases. Furthermore, the country is politically stable and economically safe. There are no religious problems and people are friendly towards foreigners. In short: Cape Verde is an optimal place for development! I believe also that São Vicente has much more to offer our tourists than being a short stopover on the way to Santo Antão. We need to offer people more interesting activities such as visiting a local farm, hiking to the lighthouse at São Pedro, snorkling in Baia das Gatas, pick-nick on Praia Grande, enjoying the beautiful dunes and wild volcanic landscape, do a 4×4 tour to the volcano or visit the guitar factory.
Could you name your best success? I took over Hotel Gaudi on February 15th, which was in the middle of Carnival fever. We opened the hotel and we had a full house immediately. At that time we worked just with a really small group. But everybody was happy and the clients also, so we celebrated carnival in a very successful way. It was funny to open the doors and watch the clients just come without having done any advertising….
What was the biggest problem you encountered as an entrepreneur in Cape Verde? The working attitude of business partners is different from the usual. People are never on time. Finding good catering staff is also hard, especially when you aim to provide a place with excellent service where the waiters and receptionists smile and interact with the guests. I think this is a general problem in other places. Cape Verde needs more special schools for waiters, receptionists and cooks. Tourism is the leading industry in the country and guests are complaining that in some restaurants the service is low and staff is not very effective. This is strange, because generally people in Cape Verde are extremely friendly and helpful, but somehow it stops at hotels and restaurants. I do not know the background of this problem, but I always have to ask new members of my team not to be so formal. It is more important to be friendly! Tourists have to feel at home! They are our guests and not only a source of income. Right now I am very happy because I managed to have a good team and my clients give me very positive feedback.
But by far the biggest problem for entrepreneurs in the tourism sector at the moment is the high cost of airplane tickets. And domestic flights have a problem with their timetables. Flights are often delayed or even cancelled. You are never sure if your guests will arrive on time…
What do you recommend other entrepreneurs when setting up a business in Cape Verde? Never sign a contract without your own lawyer giving you advice. Take your time to get more information about the local situation. Learn Krioulo as soon as possible. Be different than the others, find a gap in the market. Be patient, everything takes more time here.
Thank you. Thank you too.
August 13th 2012. All rights reserved by Atlantico Weekly.