Hello Mr Spencer, thank you very much for talking to Atlantico Weekly. Could you please tell the readers of Atlantico Weekly who you are? Well, I am Emanuel Spencer, 45 years old. I was born in Guiné-Bissau, but my father is from São Nicolau Island in Cape Verde. He lived most of his live in Guiné-Bissau. I studied civil engineering in the Ukraine. After graduation I came to Cape Verde and worked in the construction industry. I took part among other things in the construction of the Central Hospital of Ribeira Grande on Santo Antão, the construction of student housing as well as road building on this island and others. I started SCI, Spencer Construções & Imobiliária, Lda. in 2006, together with my brother João Spencer, who studied engineering in the United States.
Could you describe Spencer Construções & Imobiliária and its companies? We set out with SCI on our first project, which was the Lombo Branco Village on Santo Antão, a real estate development. The holiday homes were mainly bought by Europeans. When they came here they asked us where they could rent a car. Since there was no car rental agency on Santo Antão, we decided to start with Spencer Rent-A-Car. Then they asked us who could take care of their homes while they were absent and we set up a service company for them. More recently we set up Spencer Turismo that has just opened our first hotel in Vila das Pombas, the Paúl Mar Hotel. Another hotel is under construction: the Vista Oceano Hotel in Ponta do Sol, which will have 120 beds. We have also entered the Sinagoga Resort project here on Santo Antão as a partner. Building there starts this month, in January 2012. At Sinagoga Resort we will build 44 two and three-room homes plus a four star hotel with 70 rooms and an infinity pool. All homes and hotel rooms will have a spectacular view over the sea.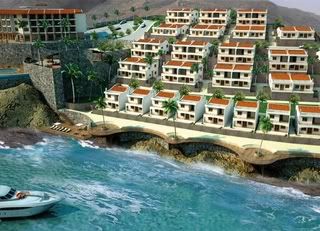 Spencer Construções & Imobiliária is only five years old now, but we are rapidly expanding beyond our home island. We are planning a hotel on São Vicente with 50 rooms and we have also teamed up with the Master Projects company in Praia to set up projects on Santiago. Meanwhile we are among the first Capeverdean companies to start operating abroad. Our internationalisation drive brought us to Angola where we founded SEC SA, which we own for 65%, while an Angolan partner has 35 %. We have an office now in Luanda, but we envisage operating in Cabinda, Bengo as well as in Kwanza Norte and Kwanza Sul provinces. We will enter the markets of housing construction and public works, real estate and tourism in Angola. In Guiné-Bissau, my country of birth, we have founded SCI Guiné-Bissau and we will start operating there early in 2012. Together with Bissau City Hall and other partners and municipalities we will start up a project for the construction of no less than 7.500 houses for the lower, middle and upper classes. We also intend to enter the public works market there.
Meanwhile Spencer Construções & Imobiliária already employs 350 staff in Cape Verde of which 27 are university graduates. But in 2012 we expect to grow towards 450 staff. We intend to set up our Angolan business by sending 150 trained staff and cadres there from Cape Verde in the first phase. In the meantime we will train sufficient Angolan staff to take things further. But that's not all! We also are looking into entering the markets of São Tomé & Principe and Equatorial-Guinea and yes, even Portugal. We have made agreements with universities in Cape Verde, Portugal and Brazil for student internships. Many of these students keep working at SCI after their graduation. The average age of our staff is around 27 years. We also employ many women in all trades and departments. We have offices now in São Vicente, Praia, Porto Novo, Guiné-Bissau and Luanda, but our headquarters will always remain here in Ribeira Grande on Santo Antão. We are proud to be the first Capeverdean company to operate internationally!
That is indeed very impressive! What made you become an entrepreneur? I always used to work for the same company that was based in Praia. I said to myself, why not start up a business in Santo Antão? When I told people about my plans they thought I was crazy. But our plans were received enthusiastically by the local authorities here on the island. We saw a great potential for business on Santo Antão and we were right. Until then, everything had to be brought in from other islands and most from the capital Praia. And that's expensive. But we provided the same service as other companies for a much better price, once we got started. Anyway, we went against the current and five years later we ended up being the only large company in Cape Verde with its headquarters not based in Praia.
Is it easy to start a business in Cape Verde? In this country we have great facilities for foreign investors and new businesses and I think we are pretty competitive internationally. The island structure of Cape Verde though is an obstacle for investors because transport makes everything expensive. Bringing a container from Portugal to São Vicente costs you, say 1200 Euros, but bringing it further across that little stretch of water to Santo Antão will set you back for another 800 Euros. So, while doing our construction projects on Santo Antão we were using material that was expensive because of the high cost of transport. We managed however to keep our overall cost low by delivering our product much faster. This was made possible by having a better qualified workforce, a phenomenon that made us highly competitive. We never took any subsidies. Anyway, the state only should create the right conditions for companies and not support them directly. That's the way we feel about it.
But Cape Verde needs to export more and we need entrepreneurs with vision. There are plenty of possibilities. We now can export freely into the EU and there are also good possibilities for exporting to the US. Now with the expanded docking facilities at Porto Novo, we have a perfect port on this island and the passenger terminal will be the best of West Africa. Santo Antão does possess great opportunities for small businesses and industries, for instance high quality coffee, liquors and fish products. Porto Novo has an efficient industrial area for processing, distributing and exporting those products. We have quality products, a young enthusiastic workforce and of course we have the opportunities for tourism development. Our small hotels, high quality products and service make sure that our tourists usually come back! This year, in 2012, the Cape Verde government will launch the tender for the construction of the Porto Novo airport. This will be excellent for the development of tourism on Santo Antão because tourists will then be able to fly in directly. Together with São Vicente we can offer an perfect tourism mix, consisting of a week on São Vicente and a week on Santo Antão. But we will not wait for that. Soon we will start with a bus service collecting tourists at the airport on São Vicente and bringing them straight to the ferry and on to their destination on Santo Antão. From 2012 we will have four ferry boats providing passenger transport between the two islands and if the schedules are well spread out and some boats spend the night on the Santo Antão side instead of on the São Vicente side, we could end up with much better connections to both islands.
How would you describe the business outlook for Cape Verde? People talk about this crisis, but I think it is just another obstacle we entrepreneurs must overcome. Since independence Cape Verde has had a long line of stable governments made up by both main political parties. All governments were business-friendly. They all did good work for the private sector, making sure our economy will keep growing. Our economy is safe and highly recommended by international institutions such as the IMF, World Bank, etcetera. We can even try to speed things up more! Spencer Construções & Imobiliária has never made so many investments as right now: hotels, resorts and housing estates like for instance the Santa Barbara project in Ribeira Grande. Yes, there will be minor reflexes from the world crisis on the Cape Verde economy, but I am convinced we can beat this. Cape Verde never had resources like oil, so we invested the little money that we had prudently and wisely: in dams, roads, hospitals, ports and airports. A sound basis has been established and we will keep on growing from there. And for the coming years there are lots of gains to be made in the agribusiness sector, again especially on Santo Antão, because of the progress we are making with irrigation schemes.
Could you describe one of your highlights or successes? Our biggest success is definitely the team we have created. We could never have achieved everything without such a great staff and workforce. We even have different generations working with us, like father and son. Yes, our biggest pride is our staff.
What do you recommend other entrepreneurs when setting up a
business in Cape Verde? A newcomer should remember that you cannot start a mega business in Cape Verde, our economy is too small. Don't expect to make millions here within a few years. You have to work step by step, phase by phase. But first of all he or she should get to know this island, Santo Antão! The local authorities on Santo Antão are really welcoming to foreign investors and they work well together here, even if they belong to different parties. We welcome any serious project or investor for this island. We even welcome other construction companies to Santo Antão. We don't see them as competitors because whatever they do will result in more business and opportunities for others.
Thank you very, very much Mr Spencer. Thank you too!
January 22th, 2012. All rights reserved by Atlantico Weekly.