Mr. Spencer Lima, thanks for talking to Atlantico Weekly. Would you please tell the readers of Atlantico Weekly who you are? My name is Jorge Spencer Lima, also known as Scapa. I was born on Sal Island and I went to school on Sal and on São Vicente. I moved on to study civil engineering in Lisbon and also international relations in Brasilia. From 1975 until 1990 I worked for Cape Verde's Ministry of Foreign Affairs. I served in various positions at the ministry, such as Director of the Minister's Cabinet and as Ambassador, mainly in West Africa: Senegal, Guinea-Conakry, Mauritania, Ivory Coast and Gambia. I left the government in 1991 and got involved in the tourism and construction sectors. I was also on the board of several companies, including TACV, our national airline. But in 2003 I founded my present company: Sogei, Sociedade de Gestão de Investimentos. Sogei is a real estate and construction company and we have built several buildings in Praia and on Sal, Boa Vista, Maio and São Vicente. At the moment Sogei is diversifying and consolidating its position. I am also shareholder of Banco Bai's Cape Verde branch (for 10%), tour operator Morabitur (30%)  and a shrimp farm, the Fazenda do Camarão (for 30%), which is still under construction on São Vicente. Sogei is the majority shareholder in airline Halcyonair. Sogei acts as the parent company for of all this, though construction and real estate development remain our core business. Furthermore, we are always looking for new business opportunities. We have recently developed a resort on the island of Maio, the Salinas Beach Resort. We are building a hotel in Praia. We have developed a resort on Sal, Paradise Beach, where we are shareholders together with Irish investors. This is our universe and we are now in a consolidation phase of our business. In fact, we have reinvested a lot in our own businesses to secure our earlier investments. All this has put Sogei among the top three enterprises of the country.
You were working as a diplomat for the government. Why did you decide to become an entrepreneur instead? Leaving the government was not entirely my own decision. I left after the 1990 elections, after which I decided to start my own business. I saw a big opportunity in  civil construction, especially because there were hardly any construction companies in the country at that time. I had to built a construction company from scratch, because there was nothing. But things went well. I soon opted for diversification with partners. The other sectors  I got involved in were business opportunities that came along at moment when I had the resources to invest, with the money I had made with my construction company.
Is it difficult to start a business in Cape Verde? It is always difficult to start a company. At that time it was maybe too easy to start a company in Cape Verde, so it could go wrong very quickly. Many companies in those days started in a wrong way and they also ended badly. But with my experience of building one of the biggest construction company in the country and my know how of doing business in Cape Verde for more than 10 years, I became an excellent partner for other companies. I always followed the policy of consolidation and reinvestment. I do not participate in the management of the companies where Sogei is a shareholder. That is the case for instance with BancoBai Cape Verde. We have provided only 10% of the capital. What we manage ourselves are Sogei Imobiliária (real estate), Sogei Construção, Halcyonair and Paradise Beach resort on Sal.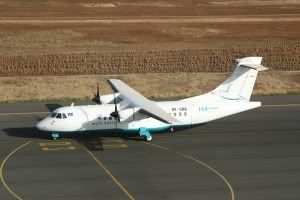 What about Halcyonair? Did you already have the idea to set up an airline when you worked for TACV? No, I didn't. Halcyonair is not my initiative. After I left TACV, I returned to the civil construction sector. I'm not even part of the hard core of people who founded the company. My involvement in Halcyonair came much later. A group of shareholders invited me to become shareholder as well and to take over Halcyonair's management. Aviation however is a tough business, especially if you have just one plane. At this moment we are at a turning point. Or Halcyonair survives, develops and we get more planes to operate internationally or Halcyonair goes bankrupt. It is not possible for an airline to operate with only one aircraft. The problem is that there are specific rules to manage these planes. There are mandatory periods of maintenance,  imposed by the aircraft's manufacturer. If you buy a car, all you do with the car after you drive away from the dealer is for your own account. It's different with a plane. You are required to cover specific maintenance procedures for each part of the aircraft: the engines, the landing gear, etc. At this moment the aircraft is on the Canary Islands for one of those regular check ups, that takes place every 4 and 10 years. You can not escape from these obligations, because every maintenance is noted in the manual. So, if your only plane is away for one month, you can not continue the business. And now they told us that the maintenance will not take one but two months. That means we have lost about 15 percent of our operational period this year. While we can not do business, the costs continue. At this moment we are in contact with a number of potential investors. The company needs capital for the restart. I had to invest much more money for certification  procedures, etc., expenses that we did not foresee. Aviation is a very capital intensive business.
Doesn't Cape Verde have lots of opportunities for aviation?  That's right. Our tourism industry has really come alive. And sometimes we benefit from the problems of others. The problems in the Middle East, like Egypt, have allowed us to receive more tourists that were looking for new destinations. More tourists means that we need more flights.
Do you think that there are opportunities for the development of Cape Verde as an aviation hub between the continents? No, not anymore. The only thing that could well be transported between continents is cargo. Because cargo does not complain, it does not request hotel rooms when delayed and it does not need any food. Nowadays everyone flies directly to other continents. Cape Verde does not profit from transfers, but only from planes that pass our air space. They have to pay for flight information. Cape Verde has a huge air space, which is called a FIR or Flight Information Region. A plane from Brazil to Europe leaves FIR Recife, is transferred to FIR Cape Verde, then Cape Verde passes it on to FIR Canary Islands, and so on, until it reaches its destination. Our controllers guide the aircraft. As for Cape Verde becoming an aviation hub, the last airline that used Cape Verde as such was South African Airlines. But for strategic reasons they now use Dakar in Senegal. But aviation is definitely a growth sector for Cape Verde. To give you one example, the new international airport in Boa Vista was built for 17 flights a week. As early as one year later the airport sees 34 flights a week. So now they're going to expand the airport. The loss of the flights that used Cape Verde as stop over, was made good by an increase of charter flights. In aviation terms, I think Cape Verde is only interesting as a tourist destination.
What do you consider your biggest success as an entrepreneur? These two buildings, here in Várzea, Praia. For me it was a dream coming true to build here. But it was a very complicated process and many people had to help. With just nine floors, they are among the highest buildings in Praia. This led to much controversy among architects and other people. Some people called these buildings towers and said that would not fit in Cape Verde. But now everybody recognizes the value of these buildings that changed the city's skyline. Cape Verde's islands are small and everyone builds only horizontally, at the expense of much space. Why shouldn't we commit ourselves to building more high rises? But no, in this country people prefer buildings of one or two floors. But we do not have the space, because we are not Brazil. Furthermore, in most countries you can find the tallest buildings on the waterfront because of the view. Here we only build single family houses. In the future it will be impossible to continue doing this. So now change is coming. There is no height limit for high rises. You just pay more to the local authorities. You pay per floor, so the higher you build, the more you pay to the municipality. That's fine. But anyway, these two buildings are a major commercial success. Every apartment was sold, but there is still demand for them. I won't say it was easy to put these buildings here. Especially the funding was difficult. At that time the banks would not lend you more than two million Euros. Presently these buildings are free of debt. Now we are working to erect another building on a site right next to these buildings, another place where we always wanted to build.
What was your biggest obstacle as an entrepreneur? The biggest obstacle for the private sector in Cape Verde is the state, our bureaucracy. One can do good business with top officials, but the lower ranks of our civil service leave much to be desired. It happened to me that the procedure of buying a plot of land was already settled with the municipality and the plot was registered on my name. Then representatives from the national government wanted to do the same procedures with me. Essentially, the national government wanted to sell the same plot of land to me as the municipality had already done! Right now we are confronted with an obstacle facing our new resort on Maio Island, Recently Sogei won an OPP Gold Award for "Best Developer in Africa" in London for our Salinas project on Maio. That put us on the map. We still have a lot of apartments available at Salinas Resort, but unfortunately we do not know when the airport on Maio will be expanded to become an international airport. Now there are only three flights a week from Praia to Maio. But it's the people of Maio who should take the lead in this lobby for airport expansion. Another big problem is the mentality of many people in Cape Verde. In a small community like ours, you are being watched continuously. There is a lot of envy and we have the tendency to pull each other down. People find it easier to bring someone down than to lend that person a hand.
What recommendations do you have for entrepreneurs who want to invest in Cape Verde? By all means, bring money and a lot of patience. Our system operates well but not at the speed required by entrepreneurs. Our bureaucracy has delayed several projects. Until a few years ago, we sold everything we built in Cape Verde. But thanks to our bureaucratic state, we did not succeed in selling some projects before the crises hit us too.
How will the economy of Cape Verde develop, in particular the real estate sector? For now recovery will not happen for Cape Verde. Our main customers in real estate were British and Irish and those countries have been affected by the crisis. Now their credit opportunities are limited. The real estate sector is not a public matter, but a problem of financial markets. We will have to sit out the ride, I guess. Cape Verde as a country was also heavily touched by the crisis in Europe. Cape Verde is very dependent on the European economy. Europe is our main partner in economic and financial terms. So with Europe in crisis, Cape Verde will hardly develop. At first our government said that there was no crisis in Cape Verde. They were wrong. The crisis has spread all over the world. If there wouldn't be a crisis in Cape Verde, it would mean that Cape Verde is not a part of the world economy. Fortunately our government has become more realistic now. The heart of the matter is that the crisis hit Cape Verde some time after the crisis hit Europe. So I think, we will only get out of this crisis after Europe has bounced back. In addition, our major partner in Europe, Portugal, is in very bad shape. But our advantage is that we are a very small country, so we can continue to receive some investment and assistance from Europe. What is a little bit for them, is a lot for us. Cape Verde can be developed with just a little European investment and aid.
Shouldn't Cape Verde look for new markets, like Brazil or booming Angola? Yes, we can find new markets there. But it will be hard. Brazil offers everything that Cape Verde can: sun and beach. At this time Brazil is experiencing an internal real estate boom. But why would someone from Rio buy a house in Cape Verde if he can also buy one in Recife? And if Brazilians go abroad, they have only two ideals: to go to Europe and the United States. They never think of Africa, which they find a strange continent. Concerning Angola as a new market, yes, that's possible. But then the government must take the lead and use their contacts with Angola's public sector. In Angola, the private sector is less developed than the public sector. We also have to invest a little, so that we can receive the Angolans. Angolans are now used to go to Cape Town for instance. That is nearby and there they find everything they need. Angolans want to stay in good hotels. We have few of them, so we need more. Angolans want to shop for luxury goods when they are traveling. We do not have smart shopping centers. Where should they go to? Then we have our diaspora in the United States, but they only come as tourists, to see their family. Capeverdean-Americans have so far not invested heavily in our real estate.
Thank you, Mr Spencer Lima, for this interview. Thank you too.
November 12th 2012. All rights reserved by Atlantico Weekly.