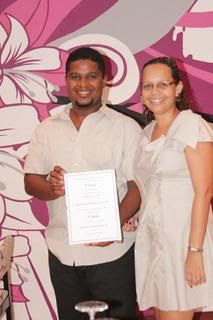 Hello Micau and Romilda, congratulations! Your restaurant O Cordel has just been voted Best Restaurant of Cape Verde in 2012 by the readers of Atlantico Weekly. Now we all want to know who you are! Thank you very much! My name is Amilcar – in short Micau – Taveres. I was born in São Vicente. In my younger days I emigrated to the United States where I lived for thirteen years. I served in the U.S. Army and consequently travelled to many countries. After leaving the military I studied tourism and hospitality. After a while I decided to return to Cape Verde and work at my parents' restaurant, which is part of the Residencial Sodade here in Mindelo. So I got experienced in the hotel and restaurant trade.
And my name is Romilda Taveres. I was born in São Vicente too.After highschool I went to Portugal to study psychology. As a student I also worked in the catering industry. After my graduation I decided to return to São Vicente, where I worked as a psychologist until I met my husband. At the moment I continue to teach psychology at the University of Mindelo, besides working as a manager at O Cordel.
How come you set up O Cordel?The idea of opening a restaurant arose when we noticed that if you want some variation,  there weren't that many restaurants to go to in the evening here on São Vicente. As we were used to travel and we consider ourselves gastronomic tourists, we like to explore what a country has to offer in terms of dishes and food. But we could not find any restaurant here on São Vicente that offered just that. We looked all over Mindelo for an excellent restaurant, but usually ended up eating at home because we could not find anything interesting. We thought that there had to be others that had the same problem and were looking for something different than the usual and traditional stuff. So the idea arose to meet this need. Micau and I  shared the dream of opening a restaurant for quite some time, but in May 2011 we saw that this place was for rent. That is when we realised we had a chance to make our dream come true. So we made use of this opportunity to open our own restaurant, O Cordel.
O Cordel actually already existed for a long time and the restaurant was originally founded by the previous owners in the eighties. At the time it was located in the centre of Mindelo, on Machado Street. Later the owners moved the restaurant to the present location, in the Madeiralzinho area. After a while the owners split up, but one of them continued to manage the restaurant. Today O Cordel, as you can imagine, is not a traditional Capeverdean restaurant anymore. Our objective was not to open yet another restaurant serving the usual dishes, but to be different from the rest. Actually we always strive to suggest our specialities to our clients. But we can provide traditional dishes off the menu if required. We also aim to stand out by the personalised service we offer to our clients.
Was it difficult to open a restaurant?With regard to difficulties when starting up a restaurant we can say we had none. We were fortunate that, because we took over an existing place, everything was included in the deal: exploitation, name and licenses.
Opening a restaurant by itself is not that difficult but to maintain your quality and to offer an attractive menu can be difficult, yes. Because the local market does not have a great variety of ingredients to choose from, one has to be very creative to keep offering variation. We rather prefer to take a dish off our menu when an ingredient is not available, than to say "no" to our clients. That is one of the reasons why we often change our menu.
How do you regard the economic situation and outlook for São Vicente? The restaurant market in this country is very complicated at the moment. We had many offers to move our restaurant to other islands, like Sal and Santiago. But because of our affinity for São Vicente we do not consider moving. Unfortunately we can not say how long the economic crisis will continue. However we took two measures to overcome the crises. First of all we keep the business small, so we have low costs too. Secondly, our restaurant is frequented almost exclusively by locals, so we are not dependent on tourists and their seasons.
What is you biggest success? Our biggest success comes when our clients leave satisfied after visiting our restaurant. We recently received the President of the Republic and the First Lady. We were very proud and happy to see that they were very happy with what we served.
What are in your view the toughest obstacles to entrepreneurs in Cape Verde? There is little investment going on right now. It is also very hard to find employees with the right skills. We are present all the time and when we want to take a vacation, we close the restaurant down completely. Then there is the daily nuisance of the lack of stable electricity supply. Fortunately we have a generator to prevent the worse.
Do you have any future plans? Concerning O Cordel, our dream is to buy this place for ourselves and stop renting it as we do at the moment. We also are involved in the development of other projects, about which we can not tell you anything at the moment!
You make us curious! No doubt we will hear more from you two… Thank you very much for talking to Atlantico Weekly!

October 22nd 2012. All rights reserved by Atlantico Weekly