Entrepreneurs of Cape Verde: Paulo Martins of Prime Consulting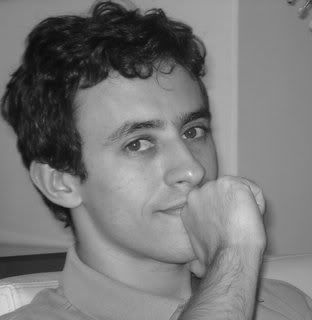 Hello Paulo, thanks for talking to Atlantico Weekly. Could you please tell the readers of Atlantico Weekly who you are? Yes, of course, thank you! I am Paulo Noël Martins, born in 1973 on the island of São Vicente in Cape Verde. I studied computer sciences at the University of Coimbra in Portugal from 1991-1996, where I developed my passion for e-government, which is the use of computer technologies in government administration. That was something that did not really exist in those days. I continued my studies with a post-graduate course at Minho University, where I also worked as a university teacher. Later I moved on to the Science Faculty of Porto University.
Around that time I got into contact with the Embassy of Cape Verde in Lisbon and I designed a strategy for them on how to apply computer technology to Cape Verde's public sector. An Embassy is a great place in the sense that all aspects of the public sector come together there: economic diplomacy, consular work, social development, etc, so I got a pretty good picture about the challenges the country was facing. It was then that I first started to ponder my return to Cape Verde. I offered to make a database on the internet for all sorts of experts in our people's diaspora, so they could be easily contacted and recruited for building up our country. That idea was not taken up by the Cape Verde government however.
But my turn came soon after that, in 1998. Our country's banks needed an automated system for doing transactions by ATMs with their clients and for trading among themselves. I  worked on the technical side of the new system, which we adapted from Portugal to the situation in Cape Verde. When this network, Rede vinti4 (24), was finished, I wanted to do more. So I joined a new government project called RAFE or Reforma de Administração Pública do Estado, that was to modernize and computerize the country's administration system. Later, when RAFE became a permanent government agency called NOSI (Núcleo Operacional da Sociedade de Informação), I became the coordinator of the development department.
One of the things we developed was the concept of the Casa do Cidadão, the Citizen House, a fine example of a One-Stop-Shop concept. This is a place where you can access all sorts of government services. But we went on to integrate several aspects of our government administration, which we called I gov, or integrated government. This is very feasible in a small country like Cape Verde.
So when did you become an entrepreneur? Well, at that point I started thinking about bringing our solutions to market. We took this I gov, a step further, with our Xi gov, or extended integrated government. We want to link everything, from land registration to car license and from private sector to public sector.
When I came to Cape Verde in 1998 I had already set up a company, but, as it turned out, only to learn some wise lessons. I had the company on the side, as some hobby. But that did not work out. You have to focus entirely on it. It was just a bit to early for me to have my own company. But my time came in early 2008 when I founded Prime Consulting with two partners. One of them was Roberto Barbosa, who was specialized in IT infrastructures of large organizations and who had been working at UBS in Switzerland. The other partner was Rodrigo Silva, a colleague from NOSI. Together we embarked on our first projects in the fields of tourism and real estate. But although we entered the private sector, we staid in good dialogue with our government.
What is Prime Consulting all about? Prime's mission is to improve Cape Verde's business sector and provide companies with better information systems as well as new technology that helps bring down energy costs.
Prime has become a point of reference in Cape Verde and some other countries when it comes to inventive and innovative information systems. We generate a lot of solutions for our national problems. I will name a first example. Because energy supply in Africa is expensive and unstable, we came up with our thin clients program. With thin clients we are able to bring down the energy costs of an organization's computers significantly. In reality this means that here at Prime and at several clients we can run a dozen work stations for less than the energy consumption of a 100 watt light bulb. We are installing this program with our clients in Angola now.
Another interesting example is a project we are doing at this very moment. We are working on behalf of the Ministry of Tourism on a web based database and reservation system that will offer hotel accommodation throughout Cape Verde, which is definitely something the country needs.
We have a large international network, with partners in Portugal, Brazil and the US. This is important, because we need a lot of interaction with others abroad. We can learn from foreign contacts we have. In fact, they are the only people we can learn from, because Cape Verde does not have a strong tradition or culture of entrepreneurship. And the nice thing is: we discovered that others are learning from our solutions too!
Prime also founded several other companies. In 2009 we established Recortes.cv, that we own for 60% (the other 40% being in the hands of a company called Metatheke). Recortes digitalizes articles from the Cape Verde printed press and makes them available for readers anywhere. We also set up Elearn Solutions (with Prime ownership at 50%) and seven It Consulting CV  (also with 50%). More recently, in 2012, we founded Afolabi in Angola, which is 100% Prime and run by Roberto Barbosa and Rodrigo Silva, who have moved to that country.
Prime itself has around 20 employees, though when we are working on projects this number may rise occasionally to as high as 60. It was hard to set up and keep our team, which cost us a lot of energy. But now our team is stable and while Prime is staying steady at the core, our group of companies is growing. Organizations such as Afolabi in Angola will need extra staff.
So I can safely say that Prime has achieved some status and prestige in Cape Verde over the years. Now we are thinking of entering other markets in Africa too. Actually, we believe that Africa is our principal market. We have several employees who are fluent in French and English, ready to do business on the continent. As far as Portuguese speaking Africa is concerned, we have already entered Angola and we also have been offering solutions in São Tomé & Principe as well as Mozambique.
Is it easy to start a business in Cape Verde? Prime had to overcome lots of difficulties before we got where we are now. We are operating in a promising sector, IT, yes, that's true. But when we arrived the sector was simply dominated by the sale of foreign hard- and software. The government however stimulated the development of indigenous solutions to our problems. This is now accepted practice and there are lots of firms who hire us. But these firms are mainly local SME's. The larger and foreign owned firms tend to bring their own equipment and expertise from abroad.
So Prime had to find its own niche market in a small economy. That was not easy. Now we are looking to find bigger markets and again we have to compete with much bigger foreign firms. But we in Cape Verde do have advantages. I can have six fruitful meetings a day here in Praia. I can get to the office in five minutes. Try to copy that in São Paulo. You get stuck in traffic pronto and you end up with maybe two good meetings a day. And there is something else. The IT sector is open to many. Anyone can start a business, but there is good engineering and bad engineering. Prime is a serious company. We tend to think before we act and we prefer to say "no" to customers when we are convinced the solution they want is simply wrong. We seek solutions that will make the client return to Prime for a next job because of the quality we offer. We want to keep our clients, because we believe in professional ethics, something that we had to invent also for lack of any entrepreneurial traditions in Cape Verde.
Back in 2008 we also had a hard time finding the right office. We needed an open space, which simply was not available on the Praia office market.
To sum up we had to fend for ourselves and invent our own wheels. Other countries have incubators for our sector. Cape Verde does not, though now we have the AJEC (Associaçao de Jovens Empresários or Young Entrepreneurs Association) organization, that assists young entrepreneurs. As you can imagine, I am one of the founders of AJEC.
What do you think are the biggest problems for an entrepreneur in Cape Verde? For the first years of Prime there were many, like I said. There was no IT incubator, there was no entrepreneurial tradition. In this sector, there were no rules of the game, no established professional ethics and we were operating in a very small market. Furthermore, we trained several employees who left as soon as they became effective and this cost us customers in the beginning. Holding on to your staff could be a problem.
What future do you see for Cape Verde's economy and for your sector in particular? In spite of the negative situation in the EU there are good prospects for Cape Verde. Our country offers space for growth. That does not mean things will come easy. In the present global economic situation a tiny country like Cape Verde will have to hit the target with just one bullet. We may not get a second chance. At Prime we see excellent opportunities in the tourism and real estate sector as well as e-government. The Cape Verde government could invest more in the IT sector and stimulate its growth. On the other hand, the government has identified the country's main strategic economic sectors it wants to develop, like the maritime cluster, the aviation cluster, etc. Though we are not one of those sectors, all of them will need IT solutions.
There are plans to establish a Technology Park for our sector, which will serve very well for attracting foreign investors. Again, we may get just one shot. So it should be swiftly planned and built in the right location, a location that will influence the dynamics of our national economy and not the economy of just one island.
Internationally speaking there are good opportunities. As many of us in Cape Verde speak French very well we will also be able to exploit our business in the CEDAO regional market, something we as a country can make more of. Anyway, there is a lot to do in Cape Verde, our country is not yet finished!
So what are Prime's plans for the future? First of all we have to consolidate our hard fought position in Cape Verde and celebrate our fifth anniversary in 2013. Then we will venture out in the various African markets, the French-speaking countries, the Portuguese-speaking countries, consolidating our foothold in Angola. Our branding and marketing will have priority, so we can export our Cape Verde born solutions elsewhere.
Could you name one of your highlights or successes? Well, luckily there are many highlights. To name a few: our second project was in Portugal, which is a unique accomplishment for a Cape Verde startup company. After that we developed a new system for the sale of real estate based on our Xi Gov concept. We once created a website for an company that had to publish very important documents the next day at 08.00 hrs and I was only called late at night by them. The launch of Recortes.cv was another highlight, as it proved to be an innovative solution for reaching our diaspora. Consolidating our team was another success, just like our innovative office concept. Actually, we are very proud of our young team. And once, during a trade fair, we had to be present at three different locations on two islands simultaneously and yes, we were there, with the help of our technology!
What do you recommend to other entrepreneurs when setting up a business in Cape Verde? Never give up! If you start a company in Cape Verde, you will need to work hard every day to get your business moving ahead!
Thank you, fascinating stuff! Thank you too for the opportunity.
July 31st 2012. All rights reserved by Atlantico Weekly.